Netizens are drawing comparisons between President Rodrigo Roa Duterte and Death Note character Light Yagami.
Death Note is a famous Japanese manga that narrates one person's desire to build a utopian society free of crimes. Sounds familiar, right? Duterte once expressed that he wants a Philippines where people will feel safe in the streets.
Below are the reasons why people think that Duterte is Light Yagami in real life.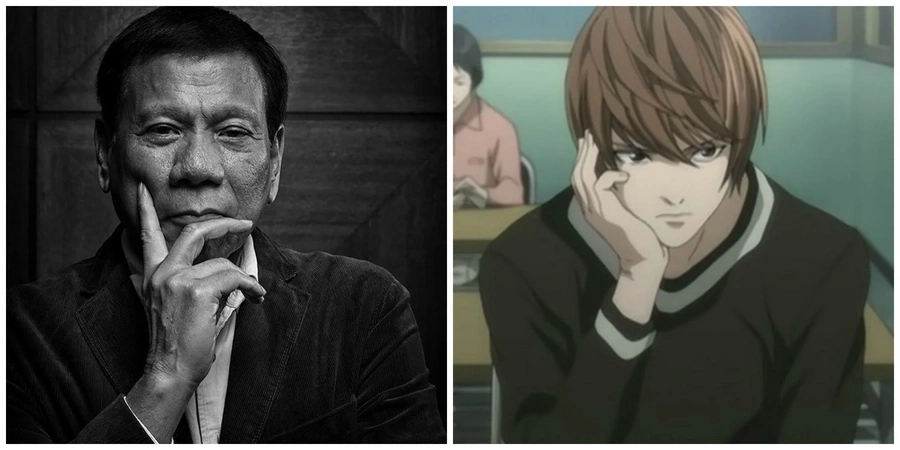 READ ALSO: 'The road to peace is a rocky one' – Duterte
They both have nicknames
Duterte was coined as "The Punisher" even during his electoral campaign, while Light was dubbed as "Kira," which is the Japanese pronunciation of "killer". Nevertheless, they both have chilling nicknames.
They both studied law
In the live action series of Death Note, it was revealed that Light passed the bar exam and is set to be a district attorney. He took up law because of his strong sense of justice and his belief in the law. Duterte graduated from San Beda College, one of the prime universities in the Philippines specializing in law. He practiced his profession in his hometown in Davao.
READ ALSO: READ: Live-in partner of killed DRUG suspect has a strong message for Duterte
They punish criminals
Light Yagami and Duterte are emphatic to the victims of crimes that they felt did not attain justice through the law that is why they punish criminals. While Light's victims are mostly murderers, Duterte concentrates on drug offenders, which he claimed as the root of all other crimes in the Philippines. Light and Duterte understand that there is a limit to what the law and the justice system can do. When there is no enough evidence, suspects can walk free.
They incurred collateral damage
In every war, there will be collateral damage, which are the deaths of innocent people. In Death Note, Light killed FBI agents Raye Penber (Iwamatsu), Naomi Misora, Teru Mikami, and Kiyomi Takada - innocent victims that impede Light's goal in creating a utopian and crime-free society. Meanwhile, Duterte's war on drugs may have killed innocent people like Lauren Kristel Rosales, Rowena Tiamson, and Roman Clifford Manaois.
READ ALSO: LOOK: 2 students killed in drug war; but were these victims innocent?
Many people support them
In spite of the killings of alleged criminals, people express their support to Light and Duterte. People are saying that people who were killed deserved it. However, there are also some people who are against in this brutal way of punishing criminals in absence of due process.
While Death Note is a work of fiction, it may have mirrored what is happening in the Philippines right now. If Duterte is Light, who is L?
Watch the best scene in the anime when Light Yagami tried to create a new world and killed almost everyone.
Disclaimer: The views and opinions expressed here are those of the author and do not necessarily reflect the official policy or position of Kami.com.ph.
Source: Kami.com.ph