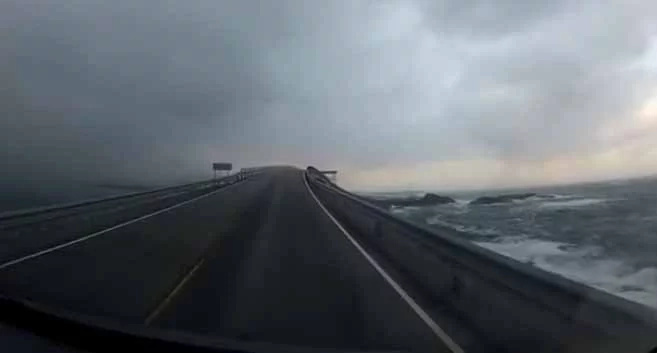 - The Atlantic Ocean Road is a road that runs through multiple small islands in Norway
- It is considered one of the most beautiful roads in the world and is the number nine tourist attraction in Norway
- This video was shot by tourists as their car drives across winding causeways in some heavy weather
The Atlantic Ocean Road in Norway is an 8.3km stretch of road that runs through several small islands, connected by bridges, causeways and viaducts. The winding road curves and arches over and across the furious sea.
In difficult weather the road becomes a hazard to drive on: during storms waves would crash onto the pavement, stronger winds could push your vehicle at speeds of up to 30 miles per hour, and visibility might be obstructed by rain and fog - especially treacherous on such an unpredictable route.
However, the Atlantic Ocean Road is one of the most exciting roads to drive across and has become an extremely popular tourist attraction in Norway. Currently it is the number nine tourist spot in the country, attracting thousands of tourists every year.
This is a video of tourists driving across the Atlantic Ocean Road during rainy weather and you can witness the beauty of it for yourself.
READ ALSO: Did this cop in bikini just make the arrest of the year? 
READ ALSO: Watch this cute pet video of a pig walking a cat!
Source: Kami.com.ph