- Photos of a puppy hugging his little friend tight have gone viral
- Buddhist nuns took in the puppies after finding them roaming around
- Many netizens were outraged at the previous owners who abandoned the puppies
Viral photos of a cute puppy hugging a smaller puppy tight after they were abandoned by their owners have melted the hearts of netizens.
The small brown dog that looks sad but calm can be seen holding closely his little friend. After these two dogs were found roaming around without their owners, a group of kindly Buddhist nuns took them in to take care of them.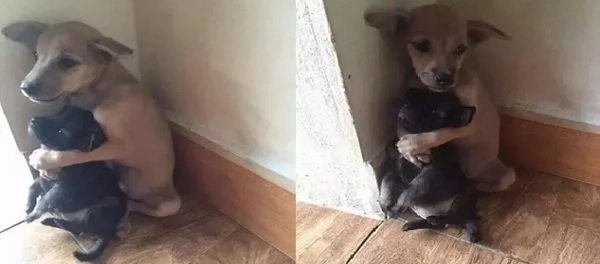 READ ALSO: Mom with an angel voice sings a song to her BABY; what the child does will AMAZE you!
Many of the online users who saw the photos condemned the two puppies' previous owners who abandoned them.
"How can people be so cruel? They shouldn't have bought the dogs in the first place if they weren't able to take good care of them!" a netizen said.
Other commenters talked about the apparent sadness in the eyes of the brown puppy.
"Oh, poor puppies! Look at their sad eyes, they must have been suffering a lot on the street!" a netizen pointed out.
READ ALSO: Heartbroken father hugs and kisses his DEAD baby before burial
Some of the netizens think that the puppy was hugging his friend because he wants to give and get comfort from the physical connection between the two of them. Dog experts say that these animals feel more relaxed when cuddling with a familiar dog or their pet owner.
On the other hand, others believe that the reason why the puppy was hugging the other puppy was because they were afraid of the new group of people who have taken them in. They commented that the dogs will get used to their new family in no time if they are treated well. Hopefully, the Buddhist nuns will do their best to make the two puppies feel right at home.
SHARE this touching story photos with your family and friends! –Kami Media
READ ALSO: This old man singing a love song to his DYING 93-year-old wife will break your heart
Source: Kami.com.ph