- The video of a mom singing to her baby has gone viral
- What made the video a viral sensation is because of the baby's cute and emotional reaction to her mom's singing
- Many believe that the baby was crying silently during her mom's performance because she was impressed and emotionally affected by her mom's great singing voice
A cute and sweet viral video has swept the online community! The clip shows a cute baby becoming emotional as her mother with an angelic voice starts to sing to her.
The video starts with the mother telling her baby: "You want mommy to sing a song? I know how you feel about this song."
The sweet mommy then started to sing her rendition of Sara Evans' song called "My Heart Can't Tell You No."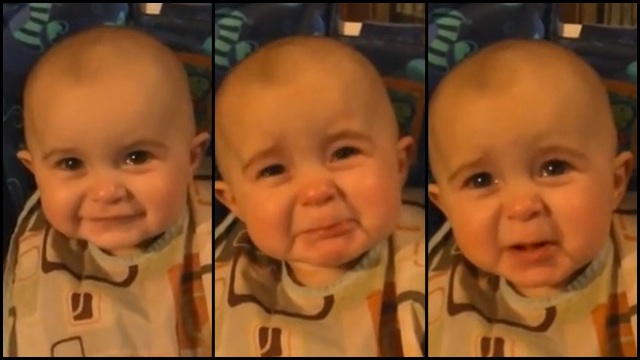 READ ALSO: This old man singing a love song to his DYING 93-year-old wife will break your heart
The lyrics of the song talks about a person who wants the love of her life to stay away from her because she has a great weakness for him despite him being in love with somebody else.
"When the one you love's in love with someone else, don't you know it's torture? I mean it's a living hell... One look in your blue eyes and suddenly my heart can't tell you no."
During the parts of the song when the pitch is higher and more powerful, the cute baby reacts by silently crying and smiling once in a while with tears in her eyes.
READ ALSO: Passenger slaps Cebu Pacific stewardess over luggage argument
Viewers' thoughts on why the baby was crying are divided. Some think that the baby was crying because she feels the pain and anguish in the way the mother was singing the song.
Others think that the baby was crying because she does not like her mother's singing voice. However, many viewers pointed out that if the baby really did not like her mom's singing, she would have cried loudly. She also would not have smiled once in a while as she cried during her mother's performance if she did not enjoy her mom's singing.
Whatever the reason is for her tears, the video clip is extremely cute, sweet, poignant and unforgettable. It also shows the great bond between a mom and her baby.
SHARE this unbelievable video with your family and friends! –Kami Media
READ ALSO: Heartbroken father hugs and kisses his DEAD baby before burial
Source: Kami.com.ph