Phoenix claims 1st win, import Phelps loses tooth
- Despite spearheading Phoenix's first victory, import Eugene Phelps lost a tooth
- He was inadvertently elbowed by GlobalPort's Glover early in the third quarter
- Immediately having his lip stitched, Phelps returned to the game within the same quarter and finished with 52 points and 16 rebounds
While Phoenix Fuel Masters gained their first win on the tournament against GlobalPort Batang Pier, their import Eugene Phelps lost a tooth on Sunday night, July 31.
The incident took place early in the third quarter with Phelps taking an elbow to his mouth when GlobalPort's Mike Glover intended to attack the rim.
The 26-year old import suffered having his tooth stuck on his lower lip which prompted him to shortly pull out of the frame to stitch it. He returned on the same quarter, scoring a whopping 28 points in the remaining time despite nursing a mangled lip.
READ ALSO: Ginebra's new import is a basketball machine; find out why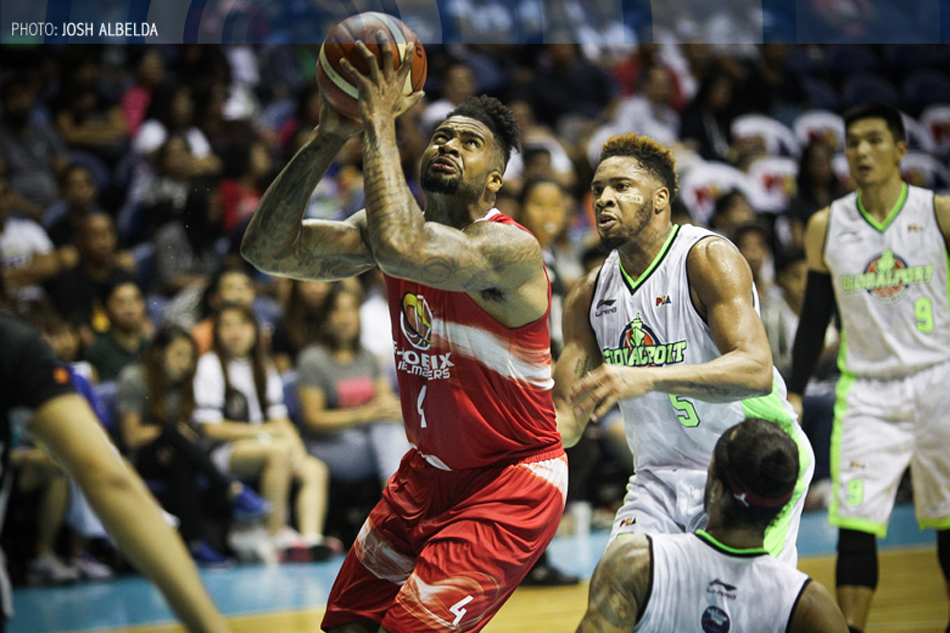 It was not a new occurrence to 'El Destructor' though; as he shared that a similar event already happened to him twice – one in Mexico and the other in Puerto Rico. He credited his aggressive performance on the second half to these experiences.
With the game ending in 120-107 in favor of his team – with 52 points coming from him, Phelps admitted that he considers the outcome of the game more important rather than his personal achievements. Although he was hopeful for another good game on his part, he says that his team's victory was what matters most. Moreover, the import acknowledged the need for his team to have chemistry – which he looks forward to having through practices.
As for Glover, he has apologized for his unintentional actions and explained that he did not mean to cause an injury.
READ ALSO: Find out why NLEX Road Warriors' Asi Taulava got fined and suspended on his next game
GlobalPort's import finished the game with 27 points and 17 rebounds but still fell short on claiming a victory for his team. Glover noted that their defense had to improve but tipped his hat off to their opponent for an astounding performance, particularly Phelps.
According to Phoenix's 6-foot-5 center, their next game would not be until 12 days later, giving him enough time to drop a visit to the hospital and dentist.
READ ALSO: Will Mac Belo continue to play for FEU? Find out here
Following their recent loss, GlobalPort's current standing has become 0-4.
Source: KAMI.com.gh