Pope Francis defends Islam
- Pope Francis denied that Islam is violent
- The pontiff was asked by journalists while on board the flight from Krakow, Poland on Sunday why he never uses that term "Islam" when talking about crimes
- The leader of the Catholic Church believes that identifying Islam with terrorism "is not true and is not correct"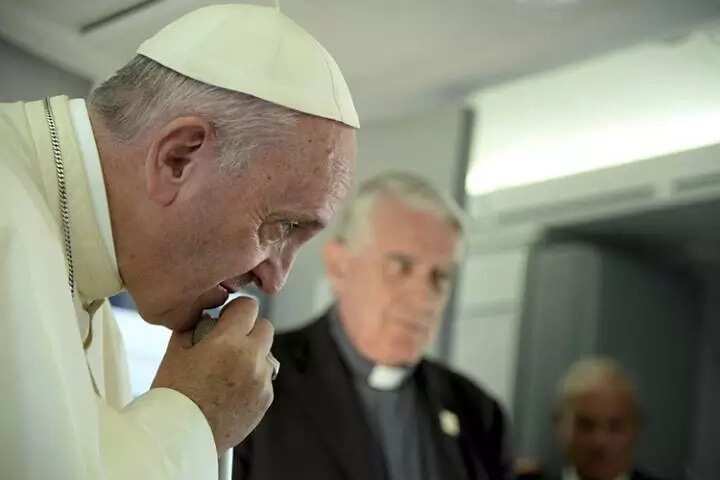 While on a flight back to Rome on Sunday, July 31, Pope Francis told reporters that Islam should not be labeled as "terrorist" because that would be unfair.
The involvement of terrorism in a French Catholic priest's death was brought up whilst flying back home. The extremists are believed to have slit the throat of an elder priest during a Mass in a French church.
Reporters who were aboard the papal aircraft noticed the leader of the Catholic Church never mentioned "Islam" when he talked about the priest's murder, or even violence and terrorism.
READ ALSO: Muslims attend Catholic service to show solidarity
When asked why is that so, the pontiff replied that he would not do that because "it's not true and it's not correct (to say) Islam is terrorism."
Francis thinks it is not right to equate Islam with violence.
"In almost every religion there is always a small group of fundamentalists. We have them too," he said.
"If I have to talk about Islamic violence I have to talk about Christian violence. Every day in the newspapers I see violence in Italy, someone kills his girlfriend, another kills his mother-in-law, and these are baptized Catholics. If I speak of Islamic violence, then I have to speak of Catholic violence," the pontiff said referring to crimes that also happened in a predominant Catholic country.
READ ALSO: Pope Francis rocks World Youth Day 2016
The Catholic leader shared that he has spoken with imams and concluded that he knows how they think, and that they are looking for peace.
"In Islam, not all are violent, not all the Catholics are violent. It's like a fruit salad, everything's in there," Francis noted.
When asked about the Islamic Terror Group ISIS, Pope Francis said it "presents itself with a violent identity card, but that's not Islam."
 The pontiff spoke on the day when Muslims attended Sunday mass in Catholic churches in France to express interfaith solidarity following extremist attacks (where a priest was murdered at the altar of his church) threatening to have more rifting religions across the globe. - Kami Media
READ ALSO: Why Pope Francis fell over during Holy Mass in Poland
Source: KAMI.com.gh