Partner of killed drug suspect: Duterte should probe vigilantes
- Jennilyn Olayres, the live-in partner of a slain drug suspect, urged President Duterte to probe the spate of extrajudicial killings in the country
- Olayres said that her partner was a drug user but not a pusher
- Olayres pointed out that many innocent people are being punished for crimes without going through due process
The live-in partner of the slain drug suspect mentioned by President Rodrigo "Rody" Duterte in his first State of the Nation Address (SONA) urged the president to investigate the spate of vigilante killings in the country.
According to Jennilyn Olayres, partner of the late Michael Siaron, Duterte should investigate and put a stop to the "cardboard justice" being conducted by unknown personalities all over the country.
"President Duterte hates pushers. I hope he himself will investigate the killings of people who have been judged with a cardboard," Olayres said.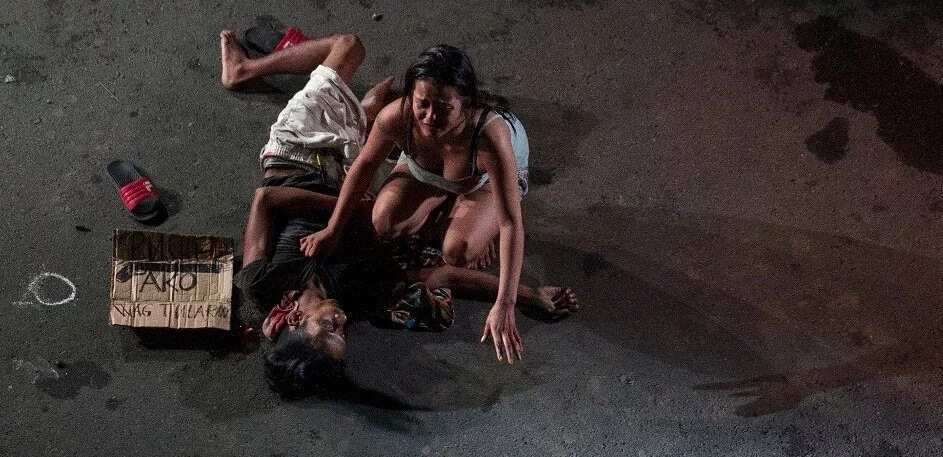 Olayres admitted that her partner was a drug user but denied the accusations that he was a drug pusher. The grieving woman said that her husband – a pedicab driver – could not be a drug pusher since their family is living in poverty. Olayres also revealed that Siaron voted for Duterte due to his strong anti-crime campaign.
As for the Filipinos who commented that her partner deserved to be killed, Olayres said that they would sing a different tune if it was their loved one who was killed without due process.
"They're happy because it hasn't happened to them. What if they lose a loved one, someone who is not guilty of the offense?" Olayres pointed out.
The woman explained that she does not expect to get justice for her partner but she wants to clear his name. According to Olayres, justice is impossible for the victims of vigilante killings because many people seem to believe the accusations written on cardboards.
Siaron was shot to death by unidentified gunmen in Pasay City a day before the first SONA of Duterte. Philippine National Police (PNP) Chief Director General Ronald "Bato" dela Rosa had earlier disclosed that most of the summary executions happening in the country are being done by criminals and not by the police. – Kami Media
Source: KAMI.com.gh