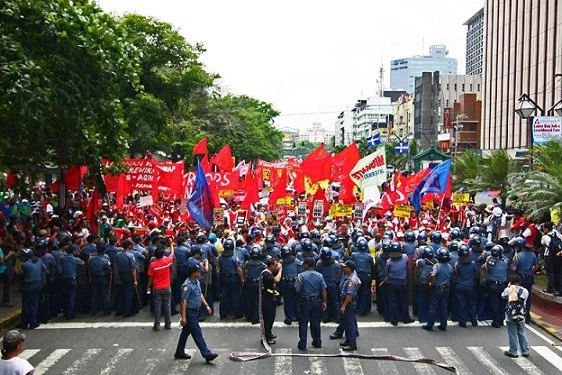 The Trade Union Congress of the Philippines(TUCP)-Nagkaisa faction said it would file the petition for a P154 increase in daily minimum wage for private sector workers in the National Capital Region (NCR), or Metro Manila.
"[The] current minimum wage in the NCR is P481. But because of rising cost of services and increasing prices of basic goods, its purchasing power is P364 only," TUCP-Nagkaisa spokesman Alan A. Tanjusay said in a text message yesterday.
The most recent wage order in the capital which took effect in April last year -- the law provides that the minimum wage can be raised only after a year from the last adjustment -- provided a P15 increase that took the daily minimum wage to P481 for non-agriculture workers and to P444 for those in farms, private hospitals with up to 100 beds, retail/service businesses with up to 15 workers and manufacturing establishments with less than 10 workers. TUCP-Nagkaisa had asked for a P136 raise in January last year.
Vicente R. Leogardo, Jr., director-general of the Employer's Confederation of the Philippines and one of two management representatives in the Metro Manila's wage board, said in a separate text that "[t]he board within 15 days from filing of petition shall conduct [a] public hearing..."
"Any party may file opposition on or before the initial hearing. Within 30 days after conclusion of [the] last hearing, the boards shall decide on the merits of the petition," he added, declining to comment on the petition itself that will be filed today.
photo from verafiles.org
Source: Kami.com.ph