Therapy dog helps child victims testify in court
- A five-year-old deaf boxer accompanies children inside the courtroom while they testify against their abusers
- Karl, the dog, is one of the six therapy dogs tasked to report to duty every day in the courtroom
- Therapy animals help people overcome difficulties in life and provide special assistance
A courtroom therapy dog named Karl has been making the lives children who are victims of abuse less terrifying by staying at their side while they come face to face with their abusers. He is not at all bothered by all the noises around him as this five-year-old boxer is actually deaf.
Karl is one of the six therapy dogs under the Ninth Judicial Court of Florida's Orange County K-9th Circuit Program. Part of his job is to report to the courtroom every day with a little blue hat on, ready to be a hero to the lives of children.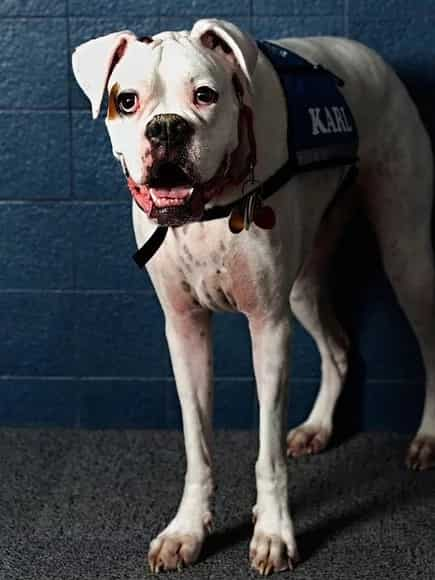 READ ALSO: LOOK: 8 heroic dogs made the ultimate sacrifices
This therapy dog sits beside the child victim the whole duration. He allows the children to hold his leash, pet his head, rub their feet on his fur, and do whatever they want with him just so they feel calm and safe. He makes it easier and more bearable for children to testify against their abusers.
"Most of them won't testify, won't go through a deposition, if they don't have a dog beside them," Karl's owner and trainer Hart-Rittenhouse said.
With Karl, children feel protected while facing their abuser inside the public place. Hart-Rittenhouse said that dogs like Karl will be sticking around for as long as the child wants.
READ ALSO: Watch priceless reaction of the giant pitbull saved by valiant police officer who had to smash in the car for it
Children who are victims of either physical or emotional abuse can benefit from the therapeutical services that Karl offers. These children are usually traumatized with all the interrogation. They recall how the abused happened and answer questions thrown at them. It could make or break them. That is why therapy animals exist.
These therapy animals help people, in general, overcome difficulties and challenges that come their way. They come in different types, shapes, breeds, and colors. They are trained to sense a person in need of proper care and give them the right kind of assistance.
"It makes me feel really good that we can do this and help," Hart-Rittenhouse said. "He's helped a lot of children," he added. -Kami Media
READ ALSO: Incredibly Cute Photos of Dogs Before and After Receiving Japanese Haircuts!
Source: KAMI.com.gh