Carina threatens Cagayan area, Signal No.2 declared
- PAGASA has placed 8 areas under signal number 2, and 7 under signal number 1 as of 11am
- The weather forecast estimates that Carina will make an even stronger landfall than expected
- Fishermen are warned to avoid high seas and light damage is expected to low risk structures
PAGASA says that a stronger Carina is set to make landfall in Cagayan, with light damage expected on low risk structures.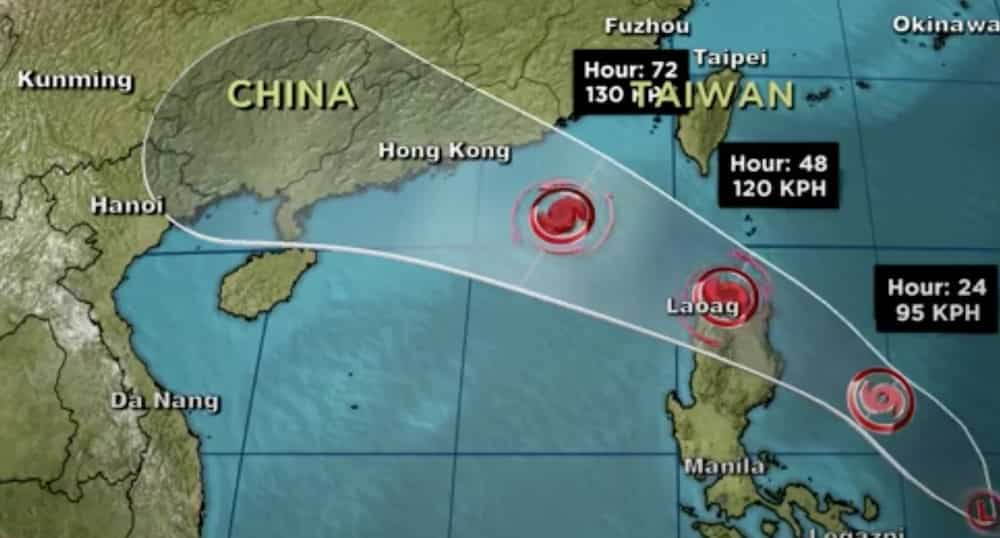 According to the update, Carina is estimated to have rainfall form moderate to heavy within the 300 km diameter of the tropical depression.
READ ALSO: Public school teachers to get P15,000 salary increase
Winds will be going up to 120km/h near the center of the tropical depression. According to reports, the winds will cause light damage to low risk structures, light damage to mediu to high risk structures, and slight damage to houses made of light materials.
Twigs of small trees are estimated to be broken and rice crops may suffer significant damage.
Fishermen are warned to avoid moderate to rough seas over the eastern seaboard of Luzon and Visayas.
People from the rest of Visayas and the province of Masbate are cautioned about moderated to heavy rains, which may lead to landslides and floods.
READ ALSO: Past and present foreign secretaries contradict views on territorial dispute
As of 11signal number 2 has been declared at:
- Isabela
- Ilocos Norte
- Ilocos Sur
- Apayao
- Mt. Province
- Ifugao
- Kalinga
- Abra
Signal number 1 has been declared at:
- Batanes Group of Islands
- Benguet
- La Union
- Nueva Vizcaya
- Quirino
- Pangasinan
- Nueva Ecija
- Aurora
The current location of the eye of Carina is located as of 1:00 am 150 km East Southeast of Catarman, Northern Samar.
The tropical depression is forcasted to move Northwest at 9 km/h, through the following locations:
- 24 Hour (Tomorrow evening): 70 km East of Virac, Catanduanes
- 48 Hour (Sunday evening): 250 km East of Baler, Aurora
- 72 Hour (Monday evening): 85 km East of Tuguegarao City, Cagayan
- 96 Hour (Tuesday evening): 70 km NNE of Laoag, Ilocos Norte
- 120 Hour (Wednesday evening): 270 km NW Laoag, Ilocos Norte
Areas affected in Luzon include: Catanduanes, Camarines Sur, Albay and Sorsogon.
Areas affected in Visayas include: Northern Samar, Easter Samar, Samar
READ ALSO: VIDEO: What does President Duterte have to say about 'Eat Bulaga?'
Source: KAMI.com.gh