Yasay contradicts del Rosario's view on territorial dispute
- Philippine Foreign Secretary Perfecto Yasay has contradicting view with  former Foreign Secretary Albert del Rosario in resolving the case of Philippines' territorial dispute with China
- Yasay insists that the case concerns only China and the Philippines while del Rosario stated that the case is an issue involving the country, the region, and the world
- China opposed the "internalization" of the case and bringing it to ASEAN
Philippine Foreign Secretary Perfecto Yasay, July 27, expressed his agreement in one of China's views in line with the resolution of the territorial dispute in the West Philippine Sea.
Yasay, in a press conference, said: "The case we filed before the arbitral tribunal with respect to our dispute with China concerns China and the Philippines alone," contradicting the statement of former Foreign Secretary Albert del Rosario on July 7, 2014, in a hearing against China before an arbitral tribunal at the Permanent Court of Arbitration (PCA).
Del Rosario's statement was: "The case before you is of the utmost importance to the Philippines, to the region, and to the world."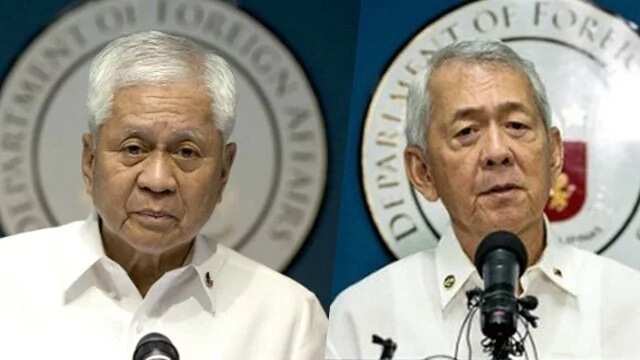 READ ALSO: Yasay to attend ASEAN Meeting, vowed to raise South China Sea dispute
Similar to Yasay's statement, China prefers bilateral talk with the countries involved in the dispute. Chinese Foreign Ministry spokesman Liu Weimin said in 2011: "We do not wish to see the Philippines get other countries involved and get them to take sides over the issue."
China has also disagreed on the "internalization" of the dispute which will bring the case to international forums such as the Association of Southeast Asian Nations (ASEAN).
During the ASEAN in Vietnam Laos, Yasay told reporters: "Hindi naman kasama 'yung ibang nasyon doon sa pag-file natin ng kaso sa arbitral tribunal, so bakit tayo mamimilit na ilalagay 'yan sa ASEAN statement?"
READ ALSO: Let's not apologize for winning the West Philippine Sea
(The other nations are not part of the Philippines' filing of the case in the arbitral tribunal, so why should we insist on putting it in the ASEAN statement?)
Experts say that despite China's objections, it is crucial for the Philippines to gain the support of ASEAN for the ruling.
Meanwhile, according to reports, Asia Maritime Transparency Initiative director Gregory Poling said that he agrees that the ruling is a case between China and Philippines, "but it certainly affects other claimants and the region more broadly."
READ ALSO: LOOK! Defiant PH raises territorial row vs China at ASEM
The United Nations Arbitral Tribunal favored the Philippines' claim of sovereignty over the West Philippine Sea on July 12.  - Kami Media
READ ALSO: Japan PM Abe: China should respect international law
Source: KAMI.com.gh