- Now that President Rodrigo Duterte is starting his reforms and promised change to the Philippines, people are having more expectations from the current administration
- The Duterte Presidency is considered by some as 'a breath of fresh air' as everyone wonders what will happen to the country during his term
- People in the showbiz industry are asked to talk about their hopes and expectations from the Duterte administration and here are the things that they said
Filipino recording artist and actor Ariel Rivera and actress Aiko Melendez said that they are hoping that Duterte will be able to solve the longstanding culture of corruption in the country and that corrupt officials and politicians would be removed from their positions. Melendez further hoped for a successful Federal form of government under Duterte's leadership.
Owner of Carl Balita Review Center Dr. Carl E. Balita stated, "A united nationalism which is more concerned about the needs of the nation than just the selfish pursuits. He was able to generate attention and support of a phenomenal majority and a vision is what it takes to get them into action for change."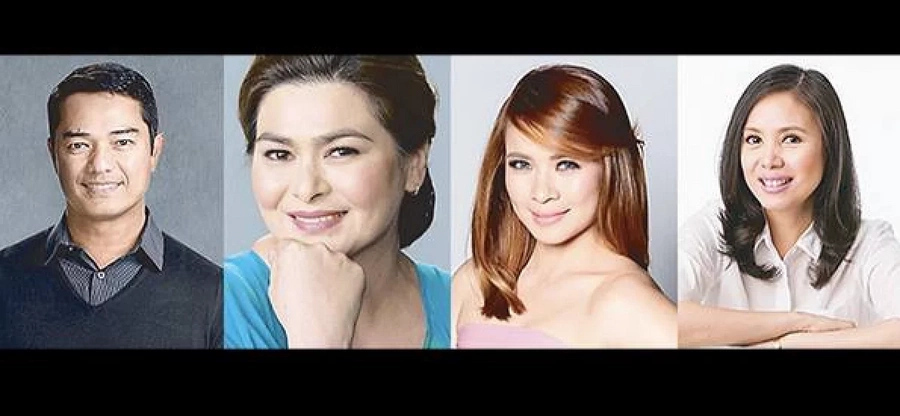 Moreover, actress LJ Reyes expressed her hope for the good influence that President Rodrigo Duterte may bring to the Filipino people and for the future generations to come. She stated that change has come and that it may progressively affect everyone. On the other hand, former UP basketball player Benj Bolivar is positive that Duterte will be able to achieve zero drugs, corruption, and crime in the country.
READ ALSO: 7 Sexy girl groups that rocked Philippine TV
"I hope that the Duterte administration will be the road towards a better Philippines. I hope that all the progress, innovation and changes it will bring upon in the next six years would be a steady uphill momentum for our country and for all the administrations to come. Change and betterment are not only in the hands of the leaders, but in the hands of the citizens as well. I hope and pray that the Duterte administration will inspire unity and cooperation amongst all Filipinos!" stated former Lance Raymundo.
Eat Bulaga! Indonesia host Leo Consul emphasized on the need to protect Filipinos working abroad. He said that it will be a clear manifestation that the new administration is doing efforts to provide opportunities to Filipinos if there will be less Filipinos who would risk working abroad. Consul pointed out that our country should not suffer from 'brain drain' because these Filipinos could be of great use to the development of the country and that the Philippines should be the one benefitting from these abilities and skills and not the other countries. He added, "I hope not to see that distinct fear which every Filipino feels the moment he/she steps that eager feet on their own soil; fear of those corrupt officials, fear of being taken advantage of, fear of those heinous crimes that continuously plague our nation and greatly, fear for their own lives."
READ ALSO: 10 celebrities who are so bad in bed that it's extremely shocking
Popular Terror Dance Mentor Douglas Nierras also expressed his hope that the President would be able to fight against crime, corruption, and drugs. Singer Sitti and host Bianca Gonzalez are on the same page as Nierras as they stated that the President should be true to his vows on suppressing criminality and stopping corruption in the country. Gonzalez further stated that those who did not vote for the President should be supportive of him now as Duterte starts running the Philippines.
One of the country's prominent cosmetic surgeon Doc Manny Calayan pointed out that the President has the iron fist which is good for a country that needs peace, order, and a stable security. Meanwhile, singer Edward Benosa is hoping for real change and an end to corruption so that there the budget allocated for education would be able to reach the street children who are in dire need of quality education. Benosa also stated that the government should provide more opportunities to all Filipinos so that those in the provinces will not go to Manila for jobs.
READ ALSO: This is the reason why Jessy Mendiola is FHM's Sexiest Woman for 2016
Salamat Dok resident doctors Dr. Willie Ong and Dr. Liza Ramoso-Ong said that they admire the President's heart for the poor and his plans to provide quality medication to the sick. As professionals in their field, they stated, "Having worked with the poor in medical missions in the past 25 years, we see many obstacles along the way before the poor can get free and adequate care. We believe that health workers in position (both public and private) should go the extra mile in helping the poor. Laboratory tests should be given free. Basic operations from start to finish should be covered by PhilHealth. There should be no out-of-pocket expense, which means poor patients need not shell out money. Otherwise, there are hundreds of thousands of poor patients slowly dying and being denied health care. Underneath this all, there should be love and respect for the poor. We should treat them like our own family."
Health advocate and host Niña Corpuz delved into the problems of the country's health care system. She stated, "Many of our public hospitals are poorly equipped. It's not uncommon to see two patients sharing a bed in a ward, if you don't find them in the hallways. Doctors and nurses are paid so little — we are said to be the No. 1 exporter of nurses and No. 2 exporter of doctors. People in far-flung villages have to travel hours or days just to get to a health center or hospital. Aside from building and improving our health facilities and encouraging our health professionals to stay, the DOH should also focus on preventive health care. PhilHealth should cover outpatient services, which include lab tests and diagnostics, and not wait for people to be hospitalized." Corpuz further called upon the President to use his iron fist in creating a healthy environment in the Philippines.  - Kami Media
READ ALSO: Jason Francisco blames ABS-CBN for wrecking marriage with Melai
Source: Kami.com.ph