Pope Francis on WYD 2016: Multiculturalism is an opportunity
- The World Youth Day 2016 culminated with very lively celebration by young pilgrims all over the world and church leaders in Poland last July 30
- The celebration was graced by Pope Francis who reminded the youth to make time to walk through their lives and to stand against violence, wars, and xenophobia
- Inspiring stories of faith were shared by everyone during the celebration
The final night of the World Youth Day 2016, the annual Catholic youth extravaganza celebrated by youth coming from all corners of the world, was celebrated by Saints doing their disco moves and nuns dancing to their heart's desire in Poland on Saturday, July 30.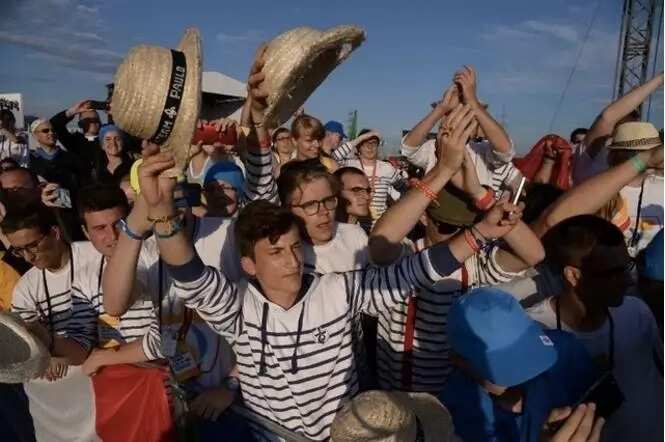 Pope Francis graced the event and his smile and cheer warmed the hearts of over one million pilgrims from around the world. Through a special Holy Door, the Pope walked into the event with 6 youngsters whom he asked to be with him in his pope-mobile.
READ ALSO: BREAKING: Why Pope Francis fell over during Holy Mass in Poland
While everyone was holding hands to form a human chain across the vast plain near Krakow, the youth were reminded and urged by Pope Francis' prayer to make time to pray instead of spending hours and hours playing video games so that life will not pass them by.
Italy's famous singing nun Sister Cristina hymn made the youngsters get up and dance to her song. There were also performers who took part in a scene in which they Saint Faustina of Poland feels her calling while she was out dancing one night.
Christina Criseina, a 30-year old Puerto Rican, was determined to attend the World Youth Day 2016 so she took 4 flights to get to the celebration. 'We came from the other side of the world to hear the pope's message,' Criseina said.
READ ALSO: Pope Francis visits historical Nazi death camp
Considering the recent jihadists attack in Europe, tight security measures were undertaken and snipers could be seen near the altar and helicopters were flying overhead. Around 1.6 million people gathered during the celebration according to the organizers.
One of the highlights of the celebration was the grasslands that resembled a multi-color mosaic with all the flag of the nations in the world.
'Participating in World Youth Day is like an addiction. I went to the last ones in Rio and Madrid. It's extraordinary,' 23-year old Colombian Alejandro Giron stated with overwhelming joy. Giron narrated that he knew someone who worked hard and sold empanadas at night to raise money for the flight ticket to Poland.
READ ALSO: WATCH: God wants to save, men want to punish – Cardinal Tagle
Pilgrims from Syria, Paraguay, and Poland inspired everyone with their stories of faith. During the celebration, candles were lit and held aloft which formed a carpet of light.
Pope Francis said that the youngsters were numbed to the suffering and pain of other people because of the prevalence of violence and wars and how these events become just another story on the evening news.
'Our response to a world at war has a name: fraternity,' the Pope said as he further urged the youngsters to stand against xenophobia and to look at multiculturalism as an opportunity and not as a threat.
Pilgrim Mirna delved into the issue of the plight of Christians living in Iraq because they are being threatened by the Islamic State group. "We're here to tell the world that Iraqi Christians aren't all dead. We're alive and the Poles have made us feel very welcome," she added.
READ ALSO: Gay network within Vatican to be exposed by Pope Benedict?
Brazilian Bishop Pedro Luiz Stringhini reminded the people during the celebration that the Pope's World Youth Day message of war and peace is for everyone.  - Kami Media
Source: KAMI.com.gh