Scary GrabCar experience, passenger's life threatened
- Female GrabCar passenger Angel Ramos posted on Facebook about the incident that happened between her and her GrabCar driver
- In the screenshot posted by Ramos, Regino Silagan Taacon Jr. was her driver who was apparently very short tempered and threatened to kill her
- Ramos tagged Grab PH in her post so that the incident would be given further action by the company
Angel Ramos, who chose to take GrabCar on her way to Makati, was threatened by driver Regino Silagan Taacon Jr. when she could not give Taacon a smaller bill as payment for her fare. The driver has been suspended and GrabCar has launched an investigation on the matter.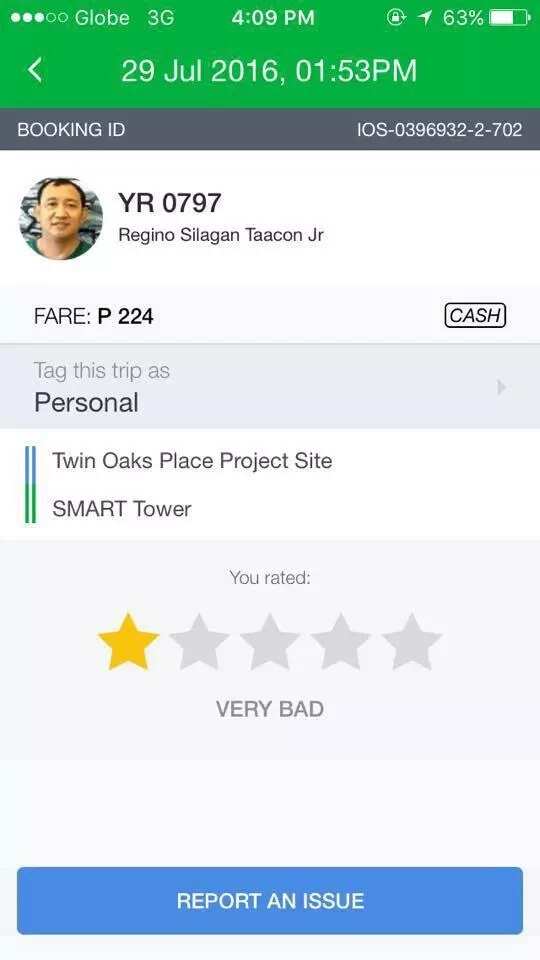 When she was about to get inside the car, Ramos asked Taacon if she could go back inside her house because she forgot something. However, the driver expressed his irritation regarding her request and even asked Ramos to just cancel the booking if she will not get inside the car. Therefore, Ramos decided not to go back inside her house and just proceeded with their trip.
READ ALSO: Relatives of killed student in Pangasinan speaks up
As they approach their drop-off location, Ramos asked her driver if he has change for a 1000-peso bill. Instead of being respectful to his passenger, Taacon told Ramos that she should have not taken GrabCar because she had no coins. Ramos reminded the driver that what she forgot was her wallet which contains her coins.
This is when Taacon raised his voice to his passenger. As Ramos narrated in her post, Taacon told her, "Dapat kasi nagdadala kayo ng barya. Hindi kami taxi, car kami!"
(You should bring coins with you. We are not taxi drivers, but car drivers.)
READ ALSO: Crime war inmates crowd PH jails
Ramos told her driver again that what she forgot to bring was her wallet. Taacon finally lost his temper and threatened to kill her. According to Ramos, Taacon's exact words were: "Wag mo ako sinasagot-sagot. Bumabaril ako. Di mo ako kilala. Wag kang sumasagot jan. Di mo ako kilala police ako. May pinagaralan ako. May pinagaralan ka ba?"
(Don't talk back to me. I shoot people. You don't know me. Don't talk back. I am a policeman. I was educated. Are you educated?)
Full of fear and on the verge of crying, Ramos further said that Taacon used bad words against her and that he continued to shout at her while they were still inside the car.
Ramos posted the incident on Facebook and tagged Grab PH on her post so that the company would know that their driver mistreated her and that it needs immediate action.
READ ALSO: LOOK! Makabayan bloc warns against Con-Ass, urged Alvarez to reconsider his stance
The incident happened around 2pm last Friday, July 29.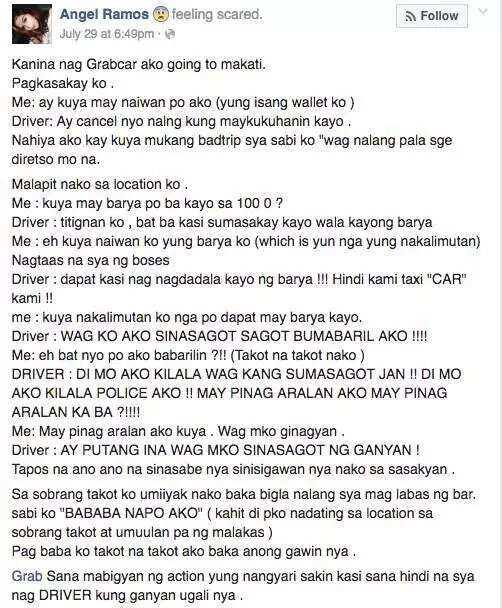 In another facebook post by Ramos, she stated that her post was intended to raise public awareness and that Grab PH already suspended Taacon from service. - Kami Media
Source: KAMI.com.gh