Duterte presents his condolences to slain CAFGU militiaman
- In compliance with the unilateral ceasefire President Rodrigo Duterte declared in his State of the Nation Address, militia members from the Citizens Armed Forces Geographical Unit were withdrawing from the area
- One militia member named Panggong S. Komanod was killed by members of the New People's Army
- President Duterte visited the wake of the slain soldier and presented his condolences to his family
Last Friday, President Rodrigo Duterte visited the wake of Citizens Armed Forces Geographical Unit (CAFGU) Panggong S. Komanod, who was killed in an ambush in Davao del Norte.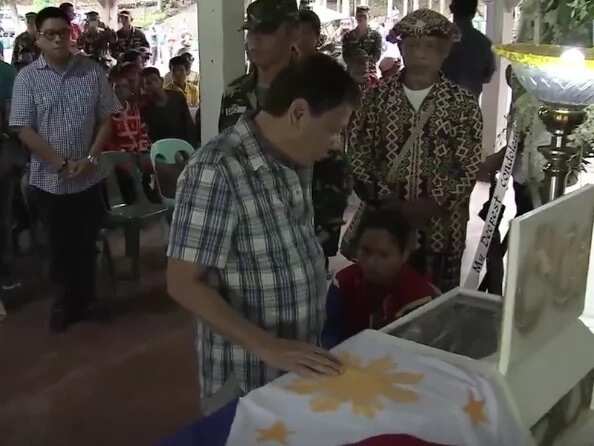 Earlier this week, the CAFGU officer was killed-in-action in an ambush by the New People's Army (NPA) while two others were seriously wounded in Sitio Manonuan, Barangay Gupitan, Kapalong, Davao del Norte.
READ ALSO: Crime war inmates crowd PH jails
According to reports, the militia members were going back to their camp at Sitio Ptil around 6:45 am on July 27 when men from the NPA opened fire. The men were withdrawing from the area in compliance to the ceasefire President Duterte declared during his State of the Nation Address.
The wake was held at the 60 Infrantry Battalion Headquarters in Camp Morgia, Barangay Doña Andrea, Asuncion, Davao del Norte.
During his visit, the President personally presented his condolences to the slain militia member's wife Makiling Momanad and her family members, who called for justice.
READ ALSO: Relatives of killed student in Pangasinan speaks up
While Major General Rafael Valencia condemned the ambush, the unilateral ceasefire with the NPA would still be upheld. Further action will be coordinated with the Philippine National Police for the conduct of law enforcement operations.
'We shall continue to abide with the ceasefire, while we continue to secure the communities, vital installations and ongoing government flagship projects against any possible attack of the [armed lawless groups]' the general said.
However, the NPA released a statement that they were only defending themselves from the militia members who allegedly were violating the ceasefire declaration.
READ ALSO: Kitty Duterte helps in washing their clothes
During the wake, the President also conversed with CAFGU wounded soldiers Pelo Macurapil and Sammy Gebang.
Duterte also took time to talk to the local children and take selfies with them.
Netizens lauded Duterte's move, saying that he is a people's man who goes even to the most remote areas to pay his condolences. - Kami Media
Source: KAMI.com.gh