- Kitty Duterte may be the daughter of the most powerful man in the country now, but she helps in the house chores just the same
- A video of a younger Kitty having fun while doing the laundry at home is making rounds on YouTube
- The now 12-year-old is President Duterte's daughter with common-law wife Honeylet Avanceña
Veronica "Kitty" Duterte may be the President's daughter, but she has her feet planted on the ground and does not live a charmed life as most people would expect. In fact, Kitty helps in washing clothes!
This is evident in a " rel="nofollow" itemprop="url">video making rounds on YouTube featuring a younger Kitty who's helping in washing the clothes at their home. The " rel="nofollow" itemprop="url">YouTube video is entitled "VIRAL ngayon ang VIDEO ni Veronica Kitty Duterte habang naglalaba."
And no, this is not the typical washing-machine-and-dryer laundry-ing, the Presidential daughter (back then probably still the Mayor's daughter) can be seen actually washing the clothes with her own hands!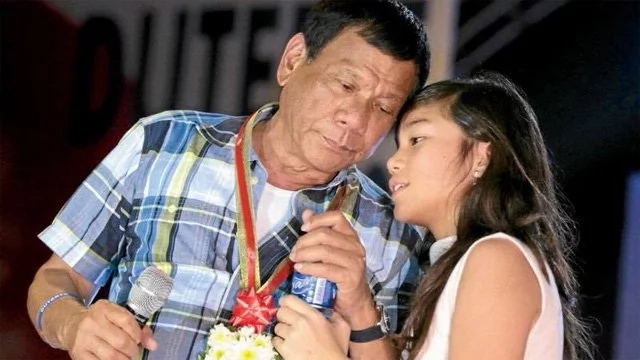 READ ALSO: Duterte promises teachers next in line for salary increase
In the video, Kitty can be seen having fun while washing some clothes in pails and water basins. The youngest Presidential daughter is also seen joking around and chatting away with the person who was taking the video.
Though the video seems to be old and not so recent as Kitty is obviously much younger in it, it clearly showed how the little girl enjoyed playing and splashing water while doing the laundry.
READ ALSO: VIRAL: Top 10 funny memes of past and present PH presidents
The now 12-year-old is President Rodrigo Roa Duterte's daughter with common-law wife, Cielito "Honeylet" Avanceña. Honeylet gave birth to Kitty in the U.S. and came back to Davao shortly after.
Though Honeylet is 25 years younger than Rody "Digong" Duterte, the two have reportedly been together for 20 years now. Kitty's mom is a nurse and an entrepreneur with several food franchises in Davao. As of writing, mother and daughter are currently based in Davao, with Kitty going to school in the City. - KJ, Kami Media
READ ALSO: Arroyo files a new bill; supports Duterte's quest for peace with Reds
Source: Kami.com.ph