- PNP Chief Bato dela Rosa tried to prove to the public that the police do not kill every drug criminal they encounter during police operations
- He showed his proof by presenting three unharmed drug suspects to the media arrested during buy-bust operations in Taguig City
- Bato explained that the police will only kill drug criminals who try to fight back
Philippine National Police (PNP) Chief Director General Ronald "Bato" dela Rosa tried to prove to the public on Friday that the police do not kill all of the drug lords, pushers and users that they encounter during police operations.
Bato did this by showing to the media three healthy and unharmed big-time illegal drug pushers – Saadodin Badron, Sukarno Bansil at Mahatir Malaco – arrested in Taguig City by Pasig policemen during separate buy-bust operations.
Dela Rosa said that the police were able to seize shabu, bullets and firearms from the suspects. The PNP chief explained that the reason the suspects were not hurt by the police was because they did not try to run and fight back.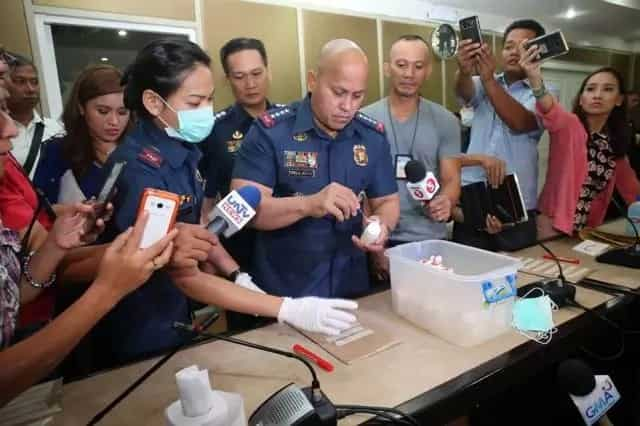 (Photo from mb.com.ph)">
Bato added that the Filipino people should realize that drug criminals will not be killed by cops during legitimate police operations if they will give up peacefully. He clarified that the criminals who will be killed are those who try to fight back.
Bato also gave a warning to drug suspects, telling them that they can try to hide but they will eventually get caught because the police are more determined and motivated to find them.
These statements came after various sectors have accused the PNP of abusing their power and violating human rights during their police operations against alleged drug criminals. The number of drug suspects getting killed by the police has increased in recent weeks but the number of police arrests has also gone up.
Due to the rising number of alleged drug criminals getting killed in police operations and the spate of vigilante killings throughout the country, the supply and distribution of illegal drugs have gone down. For this reason, the price of illegal drugs in the Philippines has significantly increased. -Kami Media
Source: Kami.com.ph