- These pranksters decided to get a woman with a huge butt to walk around the park in really short pants
- A lot of people stared at her behind, and all were caught in video
- Her ass made people fall off their scooters and even almost broke a relationship
What would happen if a woman with a voluptuous booty would strut around town in short shorts? That's what these group of pranskters wanted to find out.
A youtube channel named JinkiesTV decided to get a woman with a huge but to walk around town in very short shorts. The shorts are so small that her butt cheeks can clearly be seen.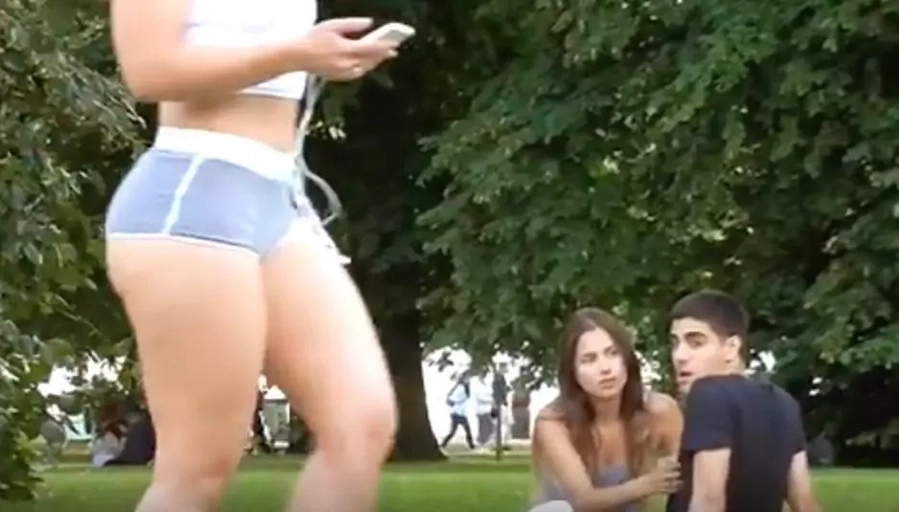 As she walked around, the pranksters filmed everything, and the reaction of the public to the woman's butt is hilarious.
READ ALSO: VIRAL: Top 10 funny memes of past and present PH presidents
In one scene, the woman walked in front of of two men sunbathing in the park. As she walked by, one of the men could not believe his eyes and stared at her behind. Being so stunned, he started motioning to his friend who has laying beside him to also stare at the woman's jiggling butt.
In another more shocking scene, the woman walked beside a man sitting on a park bench. As she walked by, the pranksters camera caught the man taking a video of her butt. But that's not all, the man started touching himself clearly aroused by her derriere.
The final scene is even more shocking. The woman started walking by a cuddling couple in the park. As the woman with the big butt walked by, the boyfriend couldn't keep his eyes off, following the butt like a magnet.
READ ALSO: These 10 clips of violent LIONS attacking humans will terrify you!
And you guessed it! The girlfriend caught her boyfriend eyeing the woman's ass. She started slapping her boyfriend, asking him why he was staring at another woman's butt. The girlfriend, clearly flustered, got up, and walked away.
READ ALSO: WATCH: Thieves are literally shocked by this prank!
Source: Kami.com.ph