Duterte not willing to talk with Abu Sayyaf
- President Duterte said that the government will not have peace talks with criminal and bandit groups like the Abu Sayyaf
- However, the President is willing to talk with rebel groups with ideologies he could understand like the communists, the MILF and the MNLF
- Duterte also promised to protect and defend soldiers and officers who will get into trouble while doing their duties faithfully
In his speech during a visit to the Southern Luzon Command (SOLCOM) headquarters at Camp Guillermo Nakar, Lucena City, Quezon, President Rodrigo "Rody" Duterte said that he is not willing to hold peace talks with criminal and bandit groups in the Philippines like the Abu Sayyaf Group.
However, the President explained that he is willing to talk with rebel groups who have ideologies he can understand.
"We have to seek peace, not only with the communist. We have to insist on peace even sa ating mga Moro na kapatid (with our Moro countrymen)… As I talk to the communist, I will talk to the MI (Moro Islamic Liberation Front), MN (Moro Islamic Liberation Front), and all the armed groups there. Hindi kasali ang Abu Sayyaf (The Abu Sayyaf is not included). I will not talk with criminal. Hindi dapat pagusapan (There will be no negotiations) — only those with an ideology," Duterte said.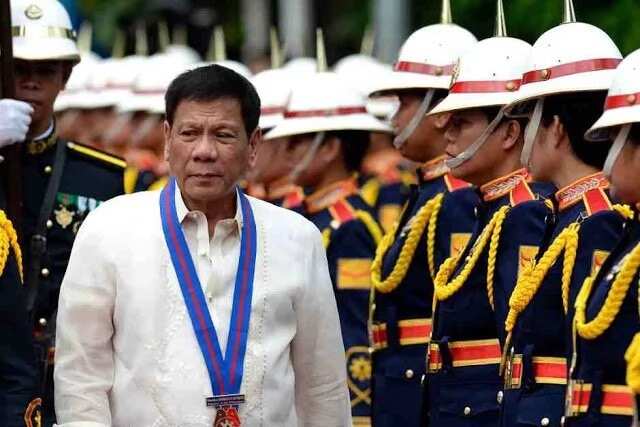 READ ALSO: Duterte receives request from communists about NPA attack
The President also ordered a unilateral ceasefire between government forces and the communist groups in the Philippines during his State of the Nation Address on Monday. In the same speech, he also talked about his desire to have peaceful talks with the MILF and MNLF rebel groups.
He assured the soldiers and officers that his peace talks with the rebel groups are being conducted for the good of all the Filipino people. Duterte pointed out that the killings between government troops and rebel forces have been going on since he was a student and he wants it to finally end the conflicts during his presidential term.
READ ALSO: Duterte and Robredo's romantic encounter during NSC meeting!
In response, Armed Forces Chief-of-Staff Gen. Ricardo Visaya assured Duterte that the military agrees with him in trying to make peace with the rebel groups.
The President also promised to provide all of the resources and support that the military needs in order to finally eliminate the Abu Sayyaf terror group. Duterte also vowed to defend and protect all of the soldiers who will get into trouble with prosecutors because of trying to do their duties faithfully. - Kami Media
READ ALSO: Leni Robredo slams Marcos' election protest!
Source: KAMI.com.gh