- The Kapamilya actress has made her social media account private to non-followers
- After winning FHM's Sexiest Woman Alive in 2016, mean comments towards her have increased drastically
- Bashers have resorted to body shaming, name calling, and other harsh comments in various social media accounts
Last July 27, Jessy Mendiola walked the runway in her red ensemble holding the title of FHM's Sexiest Woman Alive in 2016. During the victory party held at Valkyrie Super Club in Taguig City, Mendiola thanked her supporters and bashers alike for the title.
However, just a day after winning, Mendiola has set her Instagram account to private.
This begs the question: 'Why did she do it?'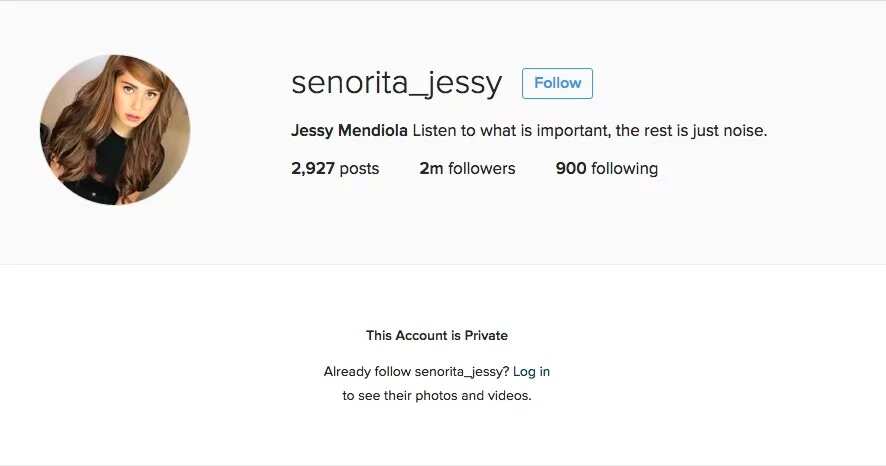 READ ALSO: This is the reason why Jessy Mendiola is FHM's Sexiest Woman for 2016
Based on what's happening and trending right now on social media, Mendiola has been constantly attacked online by her detractors. Most of the comments were pointed towards Mendiola being an undeserving winner of the title "Sexiest Woman Alive."
The hatred towards her intensified after a video of Mendiola's interview surfaced online. In that interview right after the victory party, she said, "I'm not the only one who's being bashed. I'm not the only one who's being hated. But hell, I'm the sexiest woman right now and I'm just really happy."
Many took her comments as being bashful and tactless. One Twitter user advises her to keep her feet on the ground.
READ ALSO: Pia deserves better FHM rank, says fans Some have expressed their disapproval of Mendiola winning the coveted FHM title.
During her acceptance of the award, Mendiola compared herself to Miss Universe Pia Wurtzbach by saying: "Talo ko pa si Pia Wurtzbach, 'di ba?" (I beat Pia Wurtzbach, right?) She even said that if Pia was "confidently beautiful with a heart," she is "confidently sexy with a heart."
Netizens have clamored that she is not "being confident," but "being arrogant," instead.  
READ ALSO: Jessy Mendiola inspires fans with #summergoals
A Facebook user even posted an Expectation vs. Reality meme of Jessy Mendiola to shame her body image.
A few years ago, Mendiola has kept her head held high and faced all her bashers and body shamers on Instagram. She has gone through all these snarky comments for a long time now, and this is the first time she has set her account to private.
Perhaps the issue about her dating Luis Manzano and being the alleged third party of the Lucky and Angel Locsin relationship has a role in this too. The combined hatred of Angel Locsin fans and her disapproving FHM bashers have been too much for her. – Kami Media
READ ALSO: WATCH: Jessy Mendiola overwhelmed by 'sexiest' tag
Source: Kami.com.ph