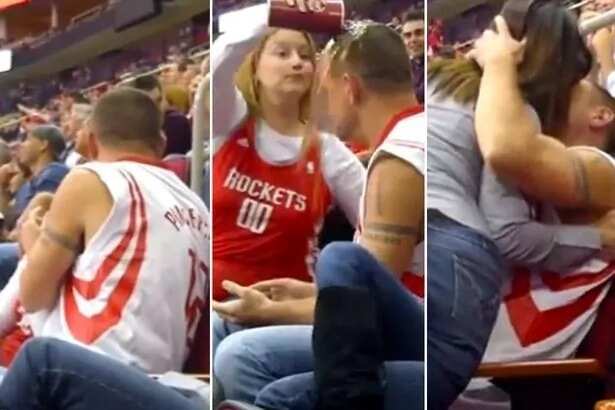 READ ALSO: High school student was told to wear a bra, an epic protest ensued…
A snubbed boyfriend cheated on his grumpy girlfriend with a hot stranger - live on kiss cam. As the camera picked out the warring couple in the crowd, the grumpy girlfriend was fuming after her boyfriend leaned in for a snog.
But rather than just telling him to get lost, the girlfriend loses her temper and lands a huge slap right across her partner's cheek. He then tries to pacify her with a cuddly toy - which she throws into the crowd, before pouring a drink over his head.
Maybe he did something really despicable like leave the toilet seat up before they left for the game. Don't you dare think you're gonna do that and embarrass me on this kiss cam, you jerk! After a teddy bear, bucket of popcorn didn't mend this relationship, not sure why he thought a $7 cup of Coke would help. Not all heroes (and heroines) wear capes though, because the hot brunette next to him saved the day.
READ ALSO: This guy has best job in the world working as masseur with volleyball hottie Winifer Fernandez
As the camera comes back to them - clearly because the couple were providing so much half time entertainment - a pretty brunette sat on the man's left leans over and plants a huge smacker on his lips. Rather than push her away, the boyfriend takes the stranger in his arms as they put on the show the crowd were waiting for. After their long snog has finally finished, the boyfriend takes the hot stranger by the hand and leads her out of the stadium - leaving his gob-smacked girlfriend open mouthed.
READ ALSO: Find out what shape of your feet reveals about your personality
Source: Kami.com.ph