- A young girl has gone viral after she demands for a 'sexy' mother 
- The footage was posted on Yexel Sebastian's Facebook account which received a variety of reactions from netizens
- The post has earned more than 670k views and 7k shares
People possess the ability to decide their own fate. All the essential and trivial matters rest on their own hands – they could choose where they wish to attend college, what course or job they think is most suitable for them, who they spend the rest of their lives with, and so much more. Although individuals were given the freedom to follow their will, there was one thing they have no control over – family.
No matter what, one could not pick their own set of biological parents. It is a given that a person owns their life to them as they were brought into the world thanks to their mom and dad. However, it can't be helped that some children have created the idea of a 'perfect parent' inside their head at times, and ridiculously demand for it.
READ ALSO: Shocking footage of detained children being teargassed and abused will tear your heart apart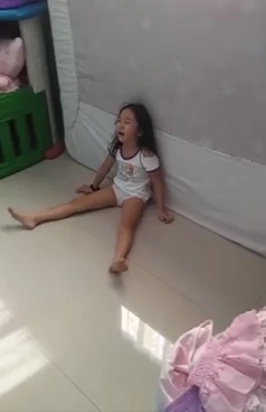 In a video that was shared on Yexel Sebastian's Facebook account, a young girl was caught throwing a tantrum over her mother's weight. She claimed of preferring a 'slender mom' instead of a 'chubby' one. Her mother responded, quipping that she has started doing Zumba as an exercise but her daughter simply refuted her and said it won't help her lose weight.
READ ALSO: The way these two communicate is utterly heart wrenching: Down syndrome child and his dog
This did not bother her mother who jokingly asked if that was the reason behind her mood, to which the child agreed and noted how she likes someone 'sexy' to be her parent.
The short clip sparked different reactions from web users. Featured in the comments section were several expressions of dismay over the child's attitude, noting that it was not 'cute' but rather disrespectful, advising that she should accept and love her parents despite their physical attributes. Some came to the defense of the child, urging for the others to halt their 'bullying' comments and give the young girl enough space to realize her mistake and correct it as she grows older.
The post has been viewed over 670,000 times and was further spread with over seven thousand shares. -Kami Media
READ ALSO: LOOK! 9 year-old boy has 300 teeth
Source: Kami.com.ph