- Department of Tourism (DOT) Secretary Wanda Teo has confirmed that the Miss Universe pageant will be held in the Philippines
- The DOT chief assured that the government will not spend any amount in hosting the pageant addressing President Duterte's concern on expenses
- Private sector is expected to shoulder all expenses in connection to hosting the pageant
Department of Tourism (DOT) Secretary Wanda Teo has confirmed that the Miss Universe pageant will be held in the Philippines during a press briefing on Thursday, July 28.
"I would like to inform everybody that the Miss Universe pageant will be on January 30, 2017 in the Philippines," according to Teo who actively campaigned with Miss Universe Pia Alonzo Wutzbach for the pageant to be held in the country.
The announcement came after speculations of the pageant not pushing through because of budget considerations with President Rodrigo Duterte saying that hosting the pageant is not a priority of his administration.
READ ALSO: Find out Duterte's latest revelation on PH's potential hosting of the Miss Universe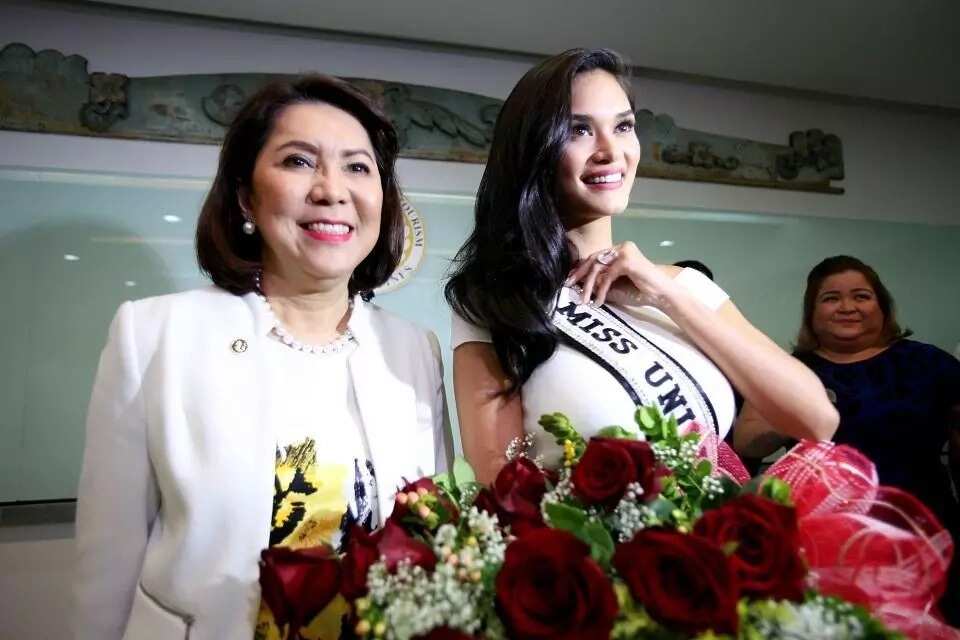 Teo clarified  that the government will not spend any amount of money in connection to hosting the pageant.
"The government is not going to spend any single centavo. It will be the private sector who would shoulder the expenses," according to Teo.
Meanwhile, Tourism Undersecretary Kat de Castro said that the main concern of the president for was the expenses but as soon the Castro's team was able to explain to the president that the private sector will shoulder the potential costs, the president agreed to the original plan.
READ ALSO: This is the reason why Jessy Mendiola is FHM's Sexiest Woman for 2016
De Castro also added that her team will get in touch with the Miss Universe organization's officials to talk about the event and resolve any issues that may arise. She said that the officials behind the pageant expressed concerns upon hearing about President Duterte's comments on the proposal which made headlines.
It was reported that the estimated expenses in hosting the pageant is around $11 million.
Teo did not mention who the sponsors will be for the pageant but admitted that Japanese billionaire Kazuo Okada and the country's richest man, Henry Sy are among those who expressed interest in supporting the event.
The last time that Philippines hosted the pageant was in 1994 when then Miss Universe Sushmita Sen passed the crown to Dayanara Torres. -MR, Kami Media
RELATED: Walang Forever! Messiest celebrity breakups
Source: Kami.com.ph