We all like to think that we're living life to the fullest, but when you consider all the responsibilities and obligations we have on a day to day basis, it's difficult to determine if we're actually succeeding. Our golden years are the time when, if we're lucky, we can enjoy all the things we've worked for in life -- in other words, being old definitely has it's perks, and doing whatever you want is definitely the most compelling one. Irish grandmother Sadie Sellers knows this all too well, and decided to use her 79 years of wisdom in the best way possible: By making a seriously impulsive decision.
Son Tony, 57, arrived for his daily visit to see his elderly mum this week, only to find the wheelchair in her room empty. He later tracked her down to the Studio Seventy-Six tattoo parlour. She'd nipped into town to get a tattoo with her granddaughter Samantha.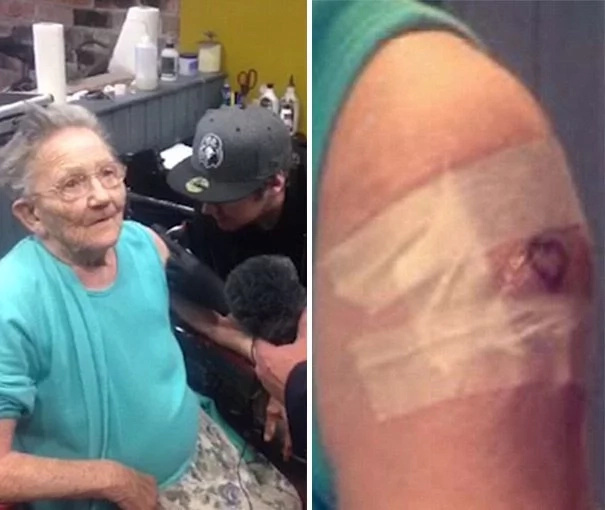 READ ALSO: Footage of man «possessed by ghost» in store will make you believe in supernatural
Sadie opted for a subtle heart design on her left arm and, when asked by tattoo artists what her family would make of her new body art, she replied ' I don't f***ing care'.
Tony, who has eight tattoos himself, said of the moment he found his fugitive mum: 'Samantha was sitting there smiling. I saw three big lads in their 20s, covered in tattoos, and in the middle was mum getting one herself.'
'I was talking about it with Samantha and she showed me hers. I just thought I'd get one too,' the lady herself explained. 'I'm made up with mine. I asked how long it would take and the man said he finished five minutes ago. I never felt a thing.'
Tony added: 'She's very prim but she can swear like a sailor behind closed doors.'
READ ALSO: Filipino driver was saved from death row by two Saudi millionaires because «it was a good day»
Source: Kami.com.ph