- The hit Korean series, Descendants of the Sun, aired in GMA last Monday, July 25.
- Starred by Song Joong Ki and Song Hye Kyo, it's by far the most successful drama of Korea in 2016
- The supporting cast, setting, and script made the list on why viewers will be hooked on the show
Even months before this hit Korean series graced the homes of Filipinos, it's impossible to not see a gif or a clip of this drama on your Facebook feed. If you also noticed couples calling themselves 'Big Boss' and 'Beauty' then you can tell that they're also one of the many hooked viewers.
It is the first in Korean drama history to portray a love story of a doctor and a solider, which cost around $10.8 million or P539.9 million in production. All the money spent were worth it because of its history-breaking ratings.
The highly anticipated drama started airing last Monday, July 25 right after 'Encantadia' on the Kapuso network, but it's not too late to catch up. Here are 5 reasons why you should jump in the DOTS (Descendants of the Sun) craze!
READ ALSO: VIDEOS: 5 Movie trailer that rocked Comic-Con and the entire geek world!
1. 'Song Song' chemistry
The lead stars, Song Joong Ki and Song Hye Kyo, accidentally share the same surnames giving birth to the 'Song Song' couple as dubbed by their fans. Prepare for their undeniable chemistry!
Both actors were not newcomers and it's impossible for Korean drama enthusiasts to not know Hye Kyo or 'Jessie,' who charmed everyone in Full House (2004). You might also remember her as 'Jenny' from Endless Love: Autumn in my Heart (2000).
Meanwhile, this is Joong Ki's first drama since he was discharge from Korea's mandatory 2-year military service. He appeared as 'Maru' in Innocent Man, which also aired in GMA.
READ ALSO: LOOK: Harry Potter couple reunite once again, it is magical!
2. The whole crew traveled all the way to Greece!
Given the drama's whooping budget, they spent over a month in Greece to film more than half of the series. Some of the places they visited includes Zakynthos, Arachova, Lemnos, and Navagio.
They also went to Seoul to film certain scenes but most of the story is set in a fictional country named 'Uruk.'
3. Its scriptwriter is the same genius behind the popular K-Dramas The Heirs, A Secret Garden, and A Gentleman's Dignity
In 2014, one of the most famous scriptwriters in Korea, Kim Eun-Sook received the story, which the series was based on, from Kim Won-Seok. Originally written as Médecins Sans Frontières, it won at the Korea Storytelling Contest in 2011.
READ ALSO: Coco Martin on Julia Montes: 'We have a lot in common'
4. Descendants of the Sun (DOTS) just surpassed 'My Love from The Star' ratings
After its final episode reached an all-time high 38.8% ratings nationwide, DOTS fared better over the other drama which aired in 2015.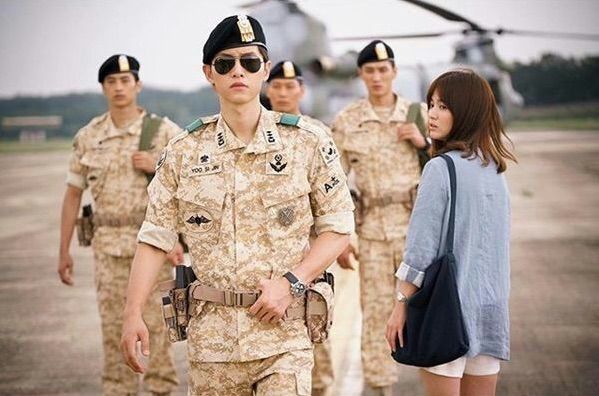 It's no wonder why each episode was prized at P4.7 million when Japan bought its rights.
5. The supporting cast won't disappoint you
The second leads, Jin Goo and Kim Ji Won also captured the hearts of the viewers. In fact, when a rumored sequel planning to focus on the two broke out, fans were ecstatic.
Aside from the good looking and ripped soldiers included, the witty medical team also completed the solid supporting cast.
READ ALSO: Find out what you're missing when you're not watching Encantadia
If you're a fan of the Kpop group, Shinee, you're in for a treat because one of their members, Onew, plays as one of the doctor who's a good friend of Song Hye Kyo.
Song Hye Kyo was handpicked by the creators of the show as early as March, 2015. While Won Bin, Jo In Sung, Gong Yoo, and Kim Woo Bin were considered for the role of Joong Ki but they all rejected the script. -Kami Media
READ ALSO: Melai cries, says husband Jason is her 'forever'
Source: Kami.com.ph