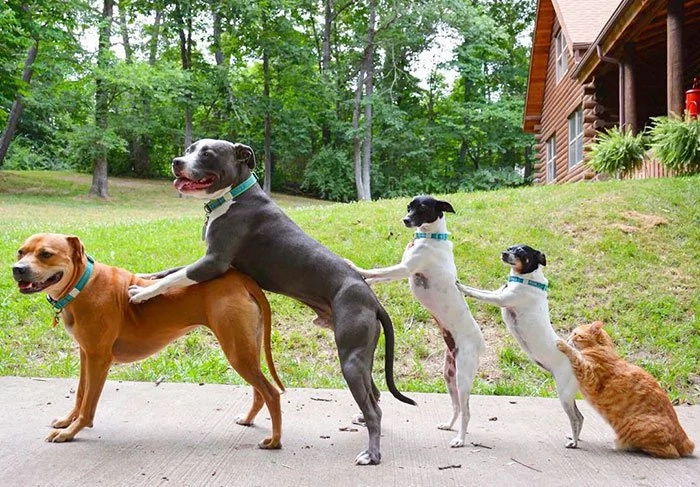 Cats and dogs are believed to be natural enemies. So are dogs usually not very enthusiastic in co-living with other dogs. A duck's instinct to survive tells it to avoid carnivorous mammals at all costs. Yet somehow Roxy, Edith, Mia, Rose, Jake, Gertrude and Donald are living peacefully together. The seven beasts that could never co-exist in nature are best friends under the roof of Kasey Boggs and her husband. The couple has been rescuing animals for a decade. Their large family consists of four dogs, a cat and even two ducklings!
Kasey claims that the animals are so used to being together they will photobomb each other if Kasey tries to snap photos of them separately.
It all began when the soft-hearted couple adopted Roxy, a Toy Fox Terrier without a hip joint. Then they adopted a pit-bull with heart problems, who sadly passed away. But since then Kasey was left with a love for pitbulls so the couple adopted Jake and Rosie. Both pitbulls had sad backgrounds: Jake's owner didn't want him anymore, so Jake was forced to sit in a crate all day, while Rosie has a background in dog fighting. Next was Edith, the rat-hound. Edith was found as a pup, huddling next to he body of her dead mother. Mia, the cat, was rescued from Stray Haven Cat Rescue.
"Whenever I have to take a pic of two or three of them, I put the others in a different room. If I try to do it in front of them, they will come together, because they are so used to being together," says Kasey.
This is a video of Kasey walking all four of her dogs and look who's sitting in her backpack!
Source: Kami.com.ph