University of the East Lady Warriors ended their Season 78 with a sweep of Adamson, 25-17 25-22 29-27 Wednesday, at The Arena in San Juan.
The Lady Warriors also snapped their 58th losing streak dating back to Season 74, gifting mentor Francis Vicente his first victory since taking over the coaching helm for two seasons. The proud coach was seen in tears (of joy) after the game.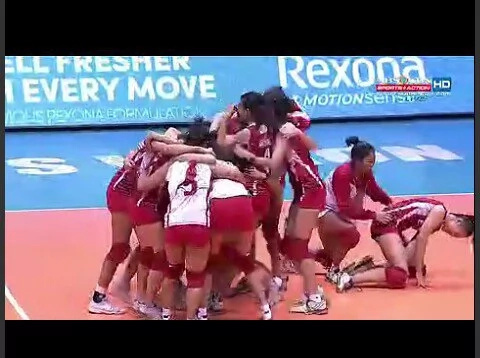 The last time the Lady Warriors won was against NU in a five-set affair on January 28, 2012. The lone win at the conclusion of this season may not be that much, but it definitely gave the Recto squad a glimmer of hope for the next campaign.
UE displayed confidence and improved plays by pounding the listless Adamson side from the get-go. Their positive attitude in the game continued in the second set. In the third frame, Adamson came alive and threatened to extend the match several times. However, UE stood its ground and relied on Roselle Baliton's back-to-back hits to seal the match.
Shaya Adorador led the way of the Lady Warriors with 14 points, while Baliton chipped in 13 points. Jema Galanza paced Adamson with 13 markers, but she did not get enough support from her teammates. The Lady Falcons dropped all their seven matches in the second round, finishing with a 3-11 win-loss record.
Source: Kami.com.ph