- The singer's cobra bite went unattended because she insisted on finishing her performance first
- She managed to continue for forty-five minutes before the venom caused her to vomit and have seizures
- Despite efforts to rush her to the nearest hospital, she was pronounced dead.
When you hear people say "the show must go on", you rarely think that their efforts would cost them their lives. Sadly, this was the case from one upcoming artist, the 29-year-old Irma Bule from Indonesia. As a video of her last performance went viral on social media, many wonder what could have compelled her to perform on a stage filled with dangerous snakes - including King Cobras.
LOOK: 4 cobra tried to enter family's home; what this pet dog did will make you cry
In predominantly Muslim countries, a risky and provocative dance move is popular among artists. It is called the dangdut - which translates to "snake dance moves" - and it's raised a considerable amount of controversy. We're sure you can get a hint of what it is with its name.
The reason this dance is so popular despite the obvious risks associated with it is its financial incentive. Singers who are competing intensively for audiences know that the dangdut is a real attention-getter. A single performance with non-venomous snakes - usually pythons - pays $20. Dancing with deadly vipers pays $25.
WATCH: 10 Horrifying giant snake attacks on humans caught on video
Originally from West Java, Bule traveled to the village of Karawang to perform at her concert. While singing her second song for the night, she accidentally stepped on a cobra. On reflex, it instantly dove for her thigh and ripped her flesh with its fangs.
A snake handler rushed to her side and managed to remove the serpent from Bule's leg, but Bule refused to take anti-venom and seek further medical attention, choosing instead to return to her performance. Her reappearance was welcomed with loud applause, but she only managed to perform for another 45 minutes before vomiting on the stage and having a seizure.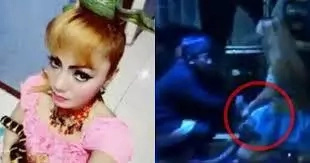 Despite being taken to the nearest hospital right away, she died. After the whole fiasco, all the concert performer could give to Bule's three young children and husband was the $25 she earned for the performance. At the very least, there is some comfort for the grieving family.
Source: Kami.com.ph