President Duterte supports local craftsmen with his footwear
- The mayor of Marikina City has been known as an advocate for his city's craft – shoemaking – to the point that he wants his colleagues to support and wear their goods as well as other local goods
- The work of Rolando de Guzman Santos, a shoemaker from Marikina, has been worn by President Rodrigo Duterte lately, thanks to his daughter's resourcefulness and determination
- The boots Santos made were supposed to be worn during the inauguration, but the president felt that it would clash with his initial outfit
It must have crossed every shoemaker's mind to have their leader wear their creations, and what a great honor must that be! It just happened that Rolando de Guzman Santos was lucky enough to have his worn by President Rodrigo Duterte recently.
Prior to his meeting with John Kerry, the Secretary of State of the United States, President Duterte was seen showing off a pair of tan brogue-style boots to his Cabinet members.
The boots were a gift from Santos himself, but he did not personally give them to the tough-talking president. Then how come he was able to have Duterte rock them like the badass that he usually is?
READ ALSO: What happened during Duterte's talk with U.S. Secretary of State Kerry?
Rosemarie, Santos' daughter, was the one who made it possible to make the newly-sworn in president wear his masterpiece. She reached out to fashion house Chardin, who designs the president's barongs, to include her father's gift along with the barong they were making for the inauguration.
According to Boni Adaza, one of the designers behind Chardin, Rosemarie messaged him on Facebook about her father's offering and the rest was history.
The young woman also used Facebook to share the on-going process of her father's creation, stating that his 54 years in the business will not go to waste as he would finally be recognized for his talent on such a huge scale.
READ ALSO: LOOK! What politicians wore to SONA
Despite only wearing the boots now, it has already been in the president's wardrobe two days before his inauguration. Adaza said that her client felt that it would not match what he was going to wear in the main event, which was initially a barong and black pants. Instead, he wore beige pants, which has been a controversial choice.
Richard Pulatche, who is Adaza's associate in the fashion house, also stated that the shoes were slippery due to not having a stopper.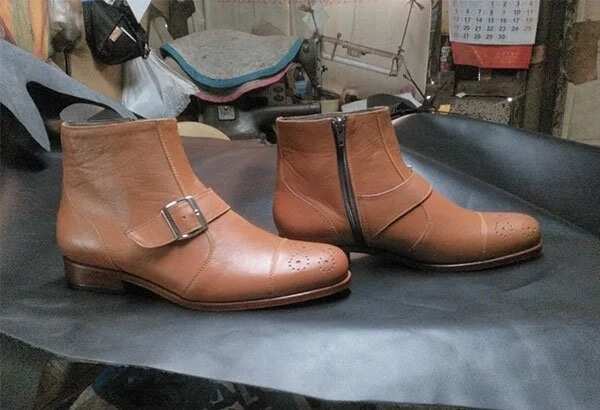 What Santos did might change the future of the local shoe industry, particularly in Marikina, now that the president has worn his wares. His achievement might also pave the way for the resurgence of the shoe capital's booming industry.
Lest we forget, it has also been known that Marikina City Mayor Marcelino Teodoro has pushed his colleagues from the Congress to support and wear local goods.
If President Duterte will continue to do so, then his administration should follow suit, pun intended.-Kami Media
READ ALSO: Find out what Duterte, Robredo, stars wore during the inauguration
Source: KAMI.com.gh