Catholic nuns condemn killings under Duterte's watch
- Association of Major Religious Superiors of Women in the Philippines (AMRSWP) released a statement condemning the rise of vigilante killings in the country
- The group of Catholic nuns have also expressed their support for the Duterte administration
- The vigilante killings have been linked to Duterte's War on Drugs, an ongoing crackdown of illegal drugs in the country a promised by the President himself
Association of Major Religious Superiors of Women in the Philippines (AMRSWP) denounced the rising cases of vigilante killings supposedly associated to President Duterte's war on drugs.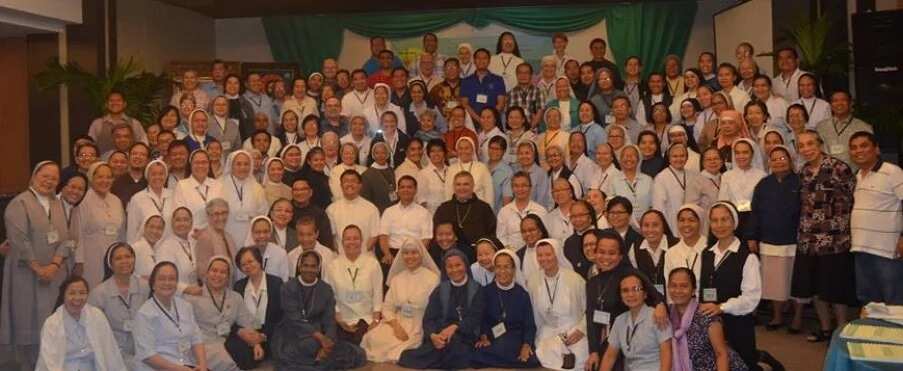 The Catholic nuns said in a statement that they "are alarmed at the increasing number of extrajudicial killings seemingly perpetrated in the name of the government's drive to stop drug trafficking."
They added that the execution of these suspects without due process is a violation of their human rights, a view they share with several groups in society.
READ ALSO: #JusticeForRowena – Vigilantes killed college honor student in Manaoag
The nuns emphasized that capacity of individuals to change through a restorative justice system. They explained that restorative justice is "an expression of mercy and compassion".
The criticism came however, with their support to some of Duterte's advocacy. "We support President Rodrigo R. Duterte and his administration's peace initiatives in the country and the programs to protect and preserve national sovereignty and patrimony," the statement read.
In the same statement, the AMRSWP expressed their condemnation to government policies that destroy human life and breach the rule of law, "perpetuate poverty, corruption, and contractualization; disregard human and women's rights; and endanger our 'common home.'"
READ ALSO: What does Senator Joel Villanueva have to say about President Duterte's war on drugs?
Previously, the Catholic Bishops' Conference of the Philippines (CBCP) condemned vigilantism in the country. They even released a guideline for law enforces who are tasked to deal with drug-related cases.
President of De La Salle Philippines, Jose Mari Jimenez had also expressed his sentiments on the issue, questioning the lack of public outcry against the killings.
According the reports, there have already been more than 540 reported cases of drug-related fatalities since May 10, after the national elections.
READ ALSO: What the Catholic Church has to say about President Duterte's SONA? Find out here
President Duterte carried his tough stance on drugs through his presidential bid as one of his major platforms, making him the eventual winner against rivals Mar Roxas, Grace Poe, Miriam Defensor Santiago and Jejomar Binay. -Kami Media
Source: KAMI.com.gh