Kerry meets with Duterte, discuss various issues
- John Kerry, U.S. Secretary of State, discussed political and personal matters with President Duterte during his courtesy call
-  The court ruling which favored the Philippines against China and the Paris Agreement were among the many discussed during the lunch hosted by the president
- The official committed $32 million, in addition to the U.S. troops and equipment, during the talk
During his one-day visit to the country, U.S. Secretary of State John Kerry discussed the Paris climate arrangement and maritime security among other issues with President Rodrigo Duterte over lunch on Wednesday, July 27.
The highest-ranking U.S. official who met with the President since his victory last May, arrived just before noon with the hopes of discussing the observance of law enforcement and protection of human rights.
Presidential Spokesperson Ernesto Abella recalled the interesting exchange between the two officials which was a mix of both political and personal discussions.
READ ALSO: Duterte and the media together again?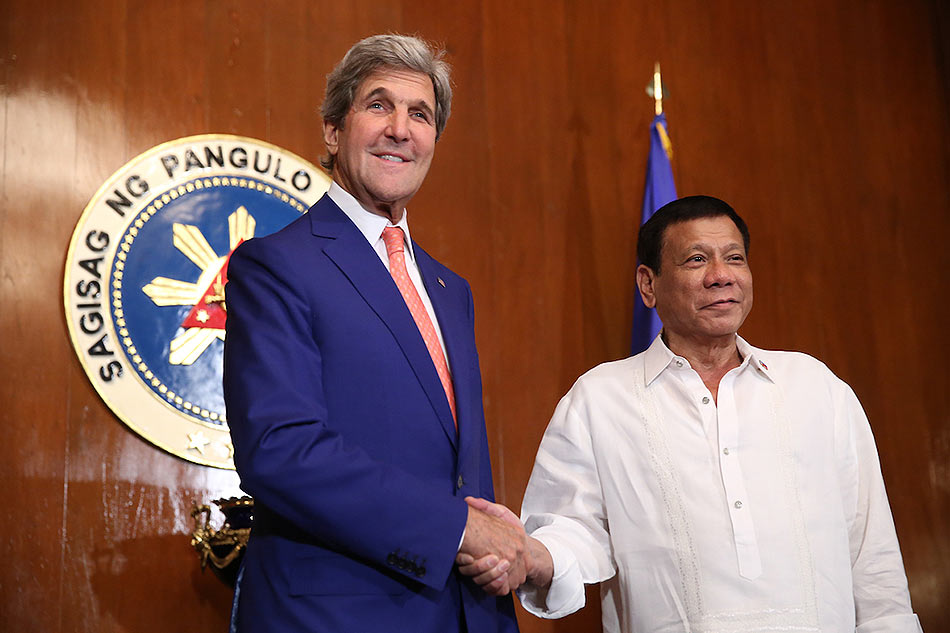 The courtesy call was lightened by Kerry's funny anecdote in relation to his motorcycle, a common interest between the two.
As expected, the issue of maritime security was brought up. There were no agreements yet but future discussions, according to the head of the state, will be based on the ruling.
Just recently, U.S. Defense Secretary Ash Carter announced their joint patrol with the Philippines in the South China Sea in addition to the U.S. troops and military equipment they would be sending. However, it should be noted that China's Foreign Minister, Wang Yi, also met up with Kerry for support in restarting the bilateral talks between China and the Philippines.
READ ALSO: Recto: Extend annual car registration to 2 years, driver's license to 5 years
Certain aspects of the Paris climate change deal were also discussed by the Secretary of the State while Duterte insisted on his belief that as long as everything is fair then the Philippines will have no problem cooperating. On his first State of the Nation Address, he wasn't supportive on limiting the carbon emission of the country if it will just be dictated by the bigger nations.
Along with terrorism, drugs, and crimes, the reaffirmation of the legality of Enhanced Defense Cooperation Agreement (EDCA) was also tackled wherein Kerry committed $32 million, with the agreement that, "whatever works for the Philippines will be what will work."
The Philippines' close relationship with the United States was observed when permanent U.S. military bases were built in the country. However, in 1991, that deal was revoked by the Philippines.
READ ALSO: WATCH: Duterte grooves to 'Nae Nae!'
The US State Secretary is set to travel in Laos this week for a meeting with foreign ministers from countries in South East Asia.
Source: KAMI.com.gh