Taulava fined, suspended after incident with SMB's Semerad
- Asi Taulava received a fine of Php 32,500 and a suspension for his team's next game against Ginebra after a physical sequence with David Semerad
- The total fine came from a technical foul for second motion (Php 2,500), for joining the fracas (Php 10,000), and a flagrant foul penalty 2 (Php 20,000)
- Taulava came into the defense of Walker who was forearmed by the Beerman
Big man Asi Taulava of the NLEX Road Warriors faces a fine worth of Php 32,500 after being involved in a physical dispute with San Miguel Beermen's David Semerad during their face off for the 2016 PBA Governors' Cup last Friday, July 22.
The large share of the Php 32,500 fine was covered by a flagrant foul penalty 2 which cost a hefty Php 20,000 while an assessment of his technical foul for second motion added Php 2,500. Furthermore, a Php 10,000 was included for 'joining the fracas instead of pacifying the protagonists,' according to the league.
Apart from the fine, Taulava was also suspended for one game which was deemed to be effective as soon as on their next fight with the Ginebra Kings on Wednesday night. The veteran center was only informed of the decision on Tuesday afternoon, right after he had already participated in practices on Sunday, Monday, and early Tuesday.
READ ALSO: Is James Yap's PBA career coming to an end?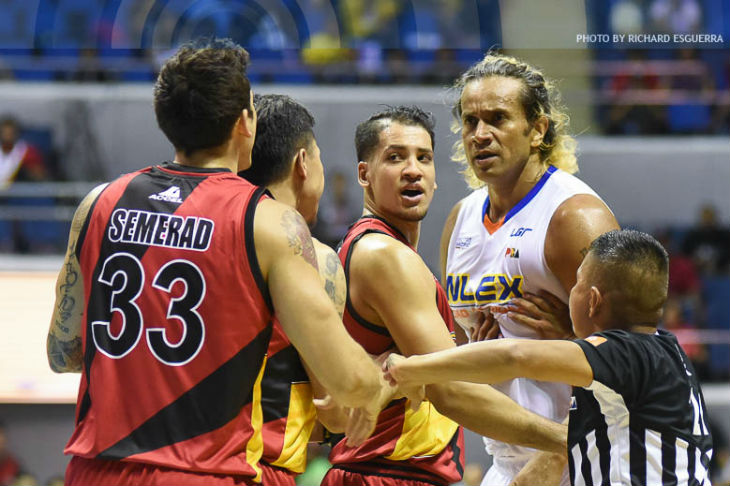 With Taulava forcefully pulled out of their next game, Coach Boyet Fernandez had to adjust the team's rotation against the Kings.
Taulava insisted that his actions were only brought upon to defend Henry Walker when Semerad committed a hard foul in an attempt to fight through a screen against the Road Warriors' import during the third quarter. However, the incident escalated when Taulava approached the Beerman with a chest bump who responded with a push of his own, resulting for the former's hand to hit Semerad in the face.
READ ALSO: Lassiter nails last shot, leads San Miguel to victory
As for Walker, he expressed his appreciation over Taulava's actions. He was vocal about his gratitude on how there was somebody on his team who was willing to stand up for him and even planned to treat Taulava to dinner. The import also quipped that he had his fair share of aggressive play from others but failed to come up with a reason why.
The heated match ended with the Beermen winning with only a 1-point advantage, 94-93, after Marcio Lassiter shot a three-point buzzer beater.
READ ALSO: Grace under pressure: Alaska Aces won over Ginebra Kings
Filipino-Tongan Asi Taulava is currently the oldest active player in the league and is serving his 15th season.-Kami Media
Source: KAMI.com.gh