Police reveal road rage suspect
- Nestor Punzalan was falsely accused of being involved in the road rage incident that killed bike rider Mark Geralde
- Punzalan presented himself to the NBI and was revealed to be innocent after police initially provided media the wrong conduction sticker number
- Authorities identified Army reservist Vhon Tanto as the suspect to the crime and has been often a problem to barangay officials since he has repeatedly violated against illegal parking laws
Following the shooting incident that occurred in Quiapo on Monday night, the alleged suspect cooperated with the National Bureau of Investigation (NBI) to clear his name that got involved after misidentifying the car.
Nestor Punzalan received the heat of the road rage that was caught on CCTV when the conduction sticker number of the red Hyundai Eon involved was initially claimed to be MO-3746.
Top Gear Philippines shared the video of the incident which has instantly gone viral. Furthermore, they tried to reach Hyundai Philippines, requesting to identify the owner of the vehicle who resorted to shoot bicycle rider Mark Vincent Geralde after losing in a fistfight along P. Casal Street.
READ ALSO: WATCH: Armed driver shoots man after losing in fistfight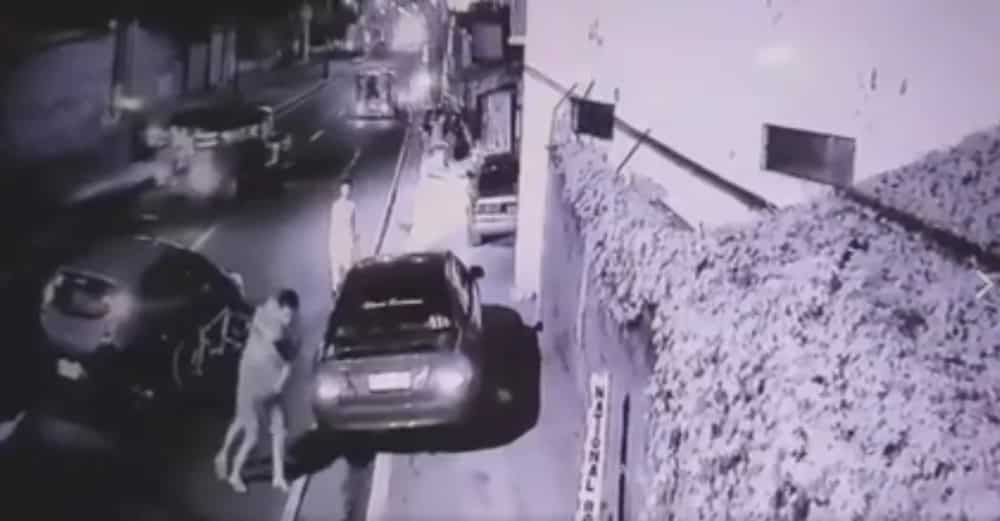 In an attempt to protect the identity of the owner as he may not be the same person using the car during the ordeal, the company opted to submit the information to the authorities instead. However, with the conduction sticker number already spread, someone was able to undergo a cross-check and shared the results to Top Gear Philippines.
As a link to Punzalan's Facebook profile was revealed to the public – with the similar red Hyundai Eon on the CCTV footage as his cover photo – netizens were quick to assume that he was indeed the driver involved in the crime.
But despite the corresponding facts, Punzalan was not the suspect, as NBI and Manila Police District (MPD) stated as well. This was because the police had provided the wrong conduction sticker number to the media, which was supposed to be MO-3745.
READ ALSO: Uber driver tries to rape this girl, look what he gets in return!
Vernon Sarne, Top Gear's editor, has issued an apology then for posting a photo of the accused's vehicle on their Facebook page.
Nonetheless, the NBI found no evidence upon inspection of Punzalan's vehicle, with the latter also providing a medico-legal examination that proved he does not sport any injuries which would be expected after an altercation.
In light of the events, police and barangay officials identified Army reservist Vhon Tanto as the suspect in the road rage killing that happened in Brgy. 385, according to reports.
According to barangay authorities, Tanto has been repeatedly warned for his illegal parking violations. As the 39-year old was seen to be armed, police considered him dangerous and called for him to cooperate with them or he might face a violent confrontation with operatives.
READ ALSO: WATCH: Terror attack in France kills at least 84 people [Updated]
Tanto will face murder charges after he shot Geralde at the face and three more times even after the casino gaming assistant went down. A stray bullet also hit an 18-year old civilian.
READ ALSO: This man was set on fire by a homophobic gang after they asked him this
Source: KAMI.com.gh