Moving forward with the Freedom of Information Bill
- The (Freedom of Information) FOI bill seeks to pursue greater transparency, accountability, and citizen participation in governance
- Last July 24, President Duterte signed an executive order implementing freedom of information in the Executive branch
- Though still a first step, it can be seen as a pathway to the passing of an FOI law in the near future
READ ALSO: LOOK: Duterte meets the media after SONA
The proposed Freedom of Information (FOI) Act, as stated in the Official Gazette, seeks to mandate the disclosure of public documents, as well as outlines the exceptions to public disclosure and the procedures for accessing such documents.
A recent FOI bill can be credited to former President Benigno Aquino III's administration, as one was crafted in concordance with the Aquino Good Governance and Anti-Corruption Plan of 2012-2016. The former administration's plan laid out reforms and initiatives to pursue greater transparency, accountability, and citizen participation in governance.
It is a good thing that succeeding and newly-inaugurated President Rodrigo Duterte is all for the Freedom of Information bill too, as last Sunday, July 24, the new President signed an executive order implementing freedom of information in the Executive branch. President Duterte is known for his commitment to honest and transparent governance, and in this recent signing, he pre-empted the Congress by issuing a Presidential order mandating open records in Malacañang and all other government offices under him.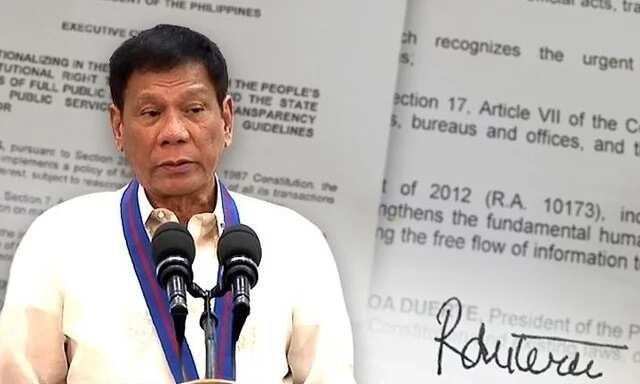 READ ALSO: How well does Duterte keep his promises? Find out
For those who have a lot to hide, it is "too much information" or "TMI" as the jargon goes today, but for those who have nothing to hide, it is freedom and liberation for the country. We may also recall that freedom of information is upheld in the Constitution:
"The right of the people to information on matters of public concern shall be recognized. Access to official records, and to documents, and papers pertaining to official acts, transactions or decisions, as well as to government research data used as basis for policy development, shall be afforded the citizen, subject to limitations as may be provided by law."
Records show that the very first bill that sought to flesh out these provisions was filed by the late Raul Roco back in 1987. And now, almost 30 years later, we are seeing real fruits under the Duterte Administration.
Historically, following the first in 1987, various FOI bills had actually been filed in successive Congresses—but all were hindered and never came to implementation, not even during former President Noynoy Aquino's term. The previous administration, though it laid versions of FOI bills in both the Senate and the House, did not push through in passing one.
READ ALSO: Guess how many Filipinos believe that Duterte can fulfill his promises!
The new Executive Order (EO) by President Duterte is just a first step in attaining freedom of information in the government, as its coverage is limited to agencies in the Executive branch, along with State Universities and Colleges (SUCs), and Government-owned and -controlled Corporations (GOCCs). The Legislative and Judicial branches are still exempt from the reach of the new EO, while the list of exceptions to information that should be made public upon request by ordinary citizens will still be drafted by the Department of Justice (DOJ) and the Office of the Solicitor General (SolGen).
But even though the FOI still has a long way to go, it still begins with that first crucial step, which President Duterte has taken on with a big leap last Sunday. Adding to the gravity of the new EO is its Section 15, which states that any employee or public officer who fails to comply with the provisions may face administrative and disciplinary sanctions.
From these recent developments, we can hope that Congress will finally get on track to passing a proper FOI law, one that is fully expanded and institutionalized, as well as covers all areas of public office. - KJ, Kami Media
Disclaimer: The views and opinions expressed here are those of the author and do not necessarily reflect the official policy or position of Kami.com.ph.
READ ALSO: READ: Full text of President Rodrigo Duterte's first SONA speech
Source: KAMI.com.gh