- Viral video of Grant, a six-year-old boy with dwarfism, goes viral 
- Grant talked about how everyone should just love each other no matter what their differences are 
- Dwarfism is a condition that affects a person's size
All of us go through tough times. There are times when we mourn about something that is not really too much of a deal. We cry about small things, fight with each other over petty reasons, and hurt somebody's feelings because of how they look. Grant know how it feels. However, how he reacts to everything that is thrown at him will amaze you and make you look at life in a whole new manner.
Grant is a six-year-old boy who has dwarfism. He is always mistaken to the twin of his one-year-old brother because of his size. He tells how he walks on a different path and how he sometimes gets hurt not only because he keeps on falling down but also because of how other people look at him.
He said that he gets hurt by people who refer to him as a baby because he knows he is not. "I wish people would know I'm just a six-year-old and that I am just like anyone else," Grant said.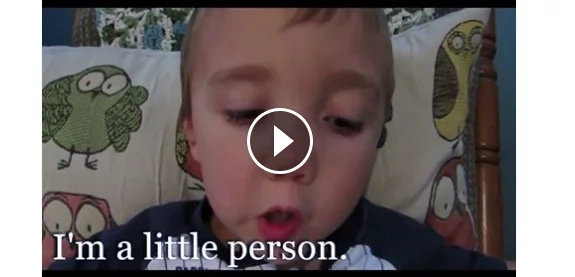 READ ALSO: INSPIRING: 10 simple life lessons from a woman with a life well lived
He added that there are people who think he cannot do things on his own because he is a "little person". However, he reveals that although there are things that might be hard for him, he can be creative and still manages to do it.
"I can do anything," Grant said
Grant wishes that everyone will love one another even if there are times when they get into a fight.
"No matter what troubles there are in the world, we will be happy as long as there's love," Grant said.
READ ALSO: Toddler boxing like a champ to "Rocky" movie is the most ADORABLE video of the day
He emphasized that a person's status in life – whether he can walk or not, he is short or tall or if he is black or white - should not matter as everyone is born as a loving person and that all of us are just trying to do the best that we can in this world.
Dwarfism is a condition that affects how a person grows. Grant's video has been viewed at least 29 million times already as of this writing.
READ ALSO: HS Valedictorian's Parents Are Street Food Vendors, Inspires Many
Source: Kami.com.ph