Yap expresses confidence despite shorter playing time in PBA
- James Yap celebrated his team's win against the GlobalPort last Sunday although he had less playing time than the usual
- Jason Webb, the Hotshots coach, insisted that the dwindling minutes of Yap in the court shouldn't be a worry
- Even with his six attempts, Yap failed to score for the team but RR Garcia made up for it which gave them a three point advantage in the end
James Yap celebrated with his team, Star Hotshots, after winning the game against GlobalPort last Sunday amid the limited 14 minutes under his belt.
Despite not shooting any hoops, Jason Webb, the Star's head coach, fervently dismissed any concern for the decreasing period of time given to Big Star James, Yap's nickname in the court.
"We are a team of depth," said Webb as he explained that rather of thinking it as wasting James' potential by sitting him out, he chose the player which was on fire. With the mindset that the people on his roster have the same skill set, Webb chose not to have a fixed set of players every game.
READ ALSO: Grace under pressure: Alaska Aces won over Ginebra Kings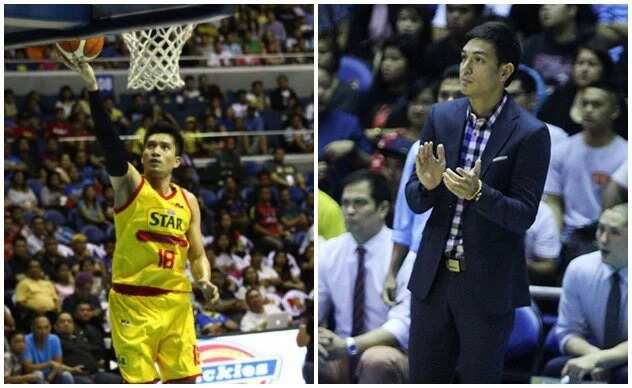 It could be PJ Simon or Allein Maliksi who would give the Hotshots a win but on that day, it was RR Garcia.
Yap's scoreless, six attempts paled in comparison with Garcia's statistic for the night. In Garcia's 37 minutes on the floor, he delivered a total of 26 points with 4 rebounds which aided the 105-102 overtime win of his team. This officially ended their losing streak consisting of 2 consecutive losses.
Instead of holding any resentment, the 2-time MVP acknowledged the change in playing time which was bound to happen given the new recruits on his team. He was just relieved that they're finally off to a good start.
READ ALSO: LOOK! PBA announces players to start All-Star game
It would be hard to cast aside the fair share of achievements of the 34-year-old player, who was born in Escalante, Negros Occidental. His successful basketball career started during high school and continued until his collegiate years when he was announced as the University Athletic Association of the Philippines' (UAAP) Most Valuable Player back in 2003.
The peak of his career so far happened in 2014, when he was hailed as Finals MVP on both Commissioner's Cup and Governors' Cup.
There's no doubt that James Yap is considered as one of the most famous PBA players with one reason being attributed to his former wife, Kris Aquino. The two were married in 2005 but separated in 2010. He shares a nine-year-old son with the TV host-actress.
READ ALSO: Lassiter nails last shot, leads San Miguel to victory
Source: KAMI.com.gh