Man shot dead after fighting against armed driver
- Top Gear Philippines posted a video of a man being shot to death after a fistfight with an armed driver
- The victim, identified as Mark Vincent Geralde, was walking away from the scene when the driver followed him and shot him
- Authorities have begun investigating the incident in search for the driver's identity
In a post Tuesday afternoon, Top Gear Philippines shared a video of an armed driver shooting a man after losing in a fistfight. The video immediately went viral with many netizens outraged with what happened.
In a reminder and a piece of advice to their readers and viewers alike, they asked them to avoid being involved in an argument especially if the person on the other party was riding a humble bicycle. They reasoned that it would clearly put the opponent in a disadvantage if you own a larger vehicle. Furthermore, they urged people to refrain from allowing the misunderstanding to progress further into a fistfight and pull a gun out when you happen to be losing.
Apparently, the caption was a teaser of what was to expect on the footage they shared.
READ ALSO: How Duterte's bloody war against drugs is turning into Philippines The Purge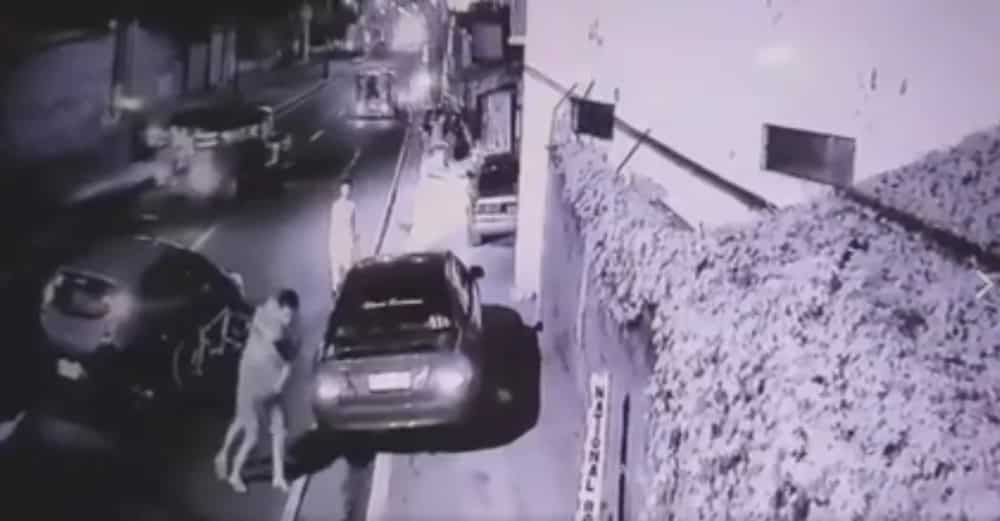 A Hyundai Eon stopped at the side of the road along P. Casal Street in Quiapo followed by a man riding a bike who was later on identified as Mark Vincent Geralde. The 35-year old appeared to be in a conversation with the people from inside the car, seeing as to how he leaned towards the passenger window of the vehicle. A few moments later, the driver of the Eon got out and a fistfight soon ensued.
Several bystanders were present in the area, while some jeeps stop a few meters ahead of the scene. Seconds later, Geralde has gained control of the situation and eventually let the driver go. However, the latter refuses to back down as he was seen continuously pointing a finger to the former when he walked back to his side of the car.
Despite already entering the vehicle, the pair seemed to still be in a heated dispute until Geralde slowly walked away. Unfortunately, the entire ordeal did not seat well with the driver as he got out once again and shot Geralde which was followed by another three even after he went down.
READ ALSO: Tigers attack woman to death and seriously injure another in Chinese wildlife park
Top Gear Philippines publicized their course of action through the comments section, and after getting a hold of Hyundai Philippines, informed their followers of the company's response. In order to protect the identity of the owner, Hyundai Philippines opted to not disclose the information as the driver and the owner may not be the same person. Moreover, the company preferred to provide the authorities the details instead.
The Manila Police District's (MPD) Station 3 has started their own set of investigation as they coordinate with the Land Transportation Office (LTO) to find the owner of the vehicle with plate number M03746.
A stray bullet hit another civilian, 18-year old Rosell Bondoc, who remains confined at Mary Chiles General Hospital.
The post has since then gone viral with over 26,000 sharing the clip and garnering less 900,000 views. -Kami Media
READ ALSO: Big-time Chinese 'shabu' dealer shot dead
Source: KAMI.com.gh