- Zambales Governor Amor Deloso says that China is using materials from the province for their reclamation project in Scarborough Shoal
- He said that the past governor is behind the sale of these materials and has earned money from it
- China has been doing building projects in the Scarborough Shoal, claiming that it is part of their territory
Incumbent Zambales Governor Amor Deloso admitted that the materials and the soil used by China in their building project at Scarborough Shoal are taken from three mountains in the province.
Deloso said that the past governor Hermogenes Ebdane was allegedly the one who allowed to the sale of soil and other materials to China, claiming that it is impossible that no one benefited from it.
"Siyempre may kumita diyan, imposibleng wala, hindi naman hahakot lang ng hahakot ng lupa kung walang ibinabayad," Deloso said.
READ ALSO: FVR on mission to China: There should be a National Security Meeting first
(Of course, there were people who benefited from the selling, it would be impossible if there were none, they won't get soil if there was no payment)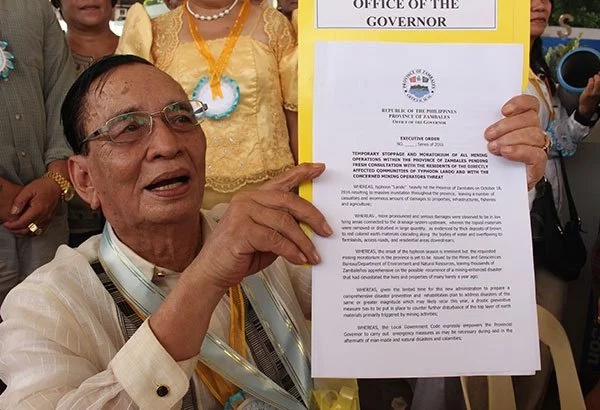 READ ALSO: China wants further negotiations with PH over territorial dispute
Deloso explained that the process involved the shipping of massive boulders from within the province to the shoal and throwing it into the sea for the purpose of using it as bedrock. Afterwards, the soil coming from the province's mountains are dumped so that China can do their reclamation activities.
The mining permits have been suspended by the provincial executive chief.
It can be recalled that the United Nations arbitral tribunal has favored the Philippines over China with regards to having the exclusive sovereign rights over the West Philippine Sea (in the South China Sea), which also states that the latter's claim of a "nine-dash line" is invalid.
"The Tribunal concluded that there was no legal basis for China to claim historic rights to resources within the sea areas falling within the 'nine-dash line," the statement by the tribunal said.
READ ALSO: Duterte: Someone has to explain why we lost the Scarborough Shoal
On the other hand, President Rodrigo Duterte also touched on the territorial dispute in his first State of the Nation Address (SONA).
The President said that the country respects and affirms the ruling made by the Permanent Court of Arbitration.
He said that the outcome of the case is an "important contribution to the ongoing efforts to pursue a peaceful resolution and management of our dispute."
READ ALSO: Are there Chinese missiles in Zambales?
Source: Kami.com.ph