Bato all smiles as he shook hands with Bayan leader
- PNP Chief Ronald 'Bato' Dela Rosa chose to meet activists with a smile, a handshake and a short photo op that caught the press' fancy
- Every year, activists converge outside the Batasang Pambansa whenever a Philippine President would deliver his State of the Nation Address (SONA) but this was the first time they got to be near the venue
- Bato also met with the activists who converged at Commonwealth Avenue and said the police force was glad that they were there
While President Rodrigo Duterte was preparing on Monday to deliver his first State of the Nation Address (SONA), PNP Chief Ronaldo 'Bato' Dela Rosa met with activists, shook hands with Bayan secretary general Renato Reyes, Jr. and smiled at the cameras.  Bato could not help but send his greetings of peace to the Bayan leader.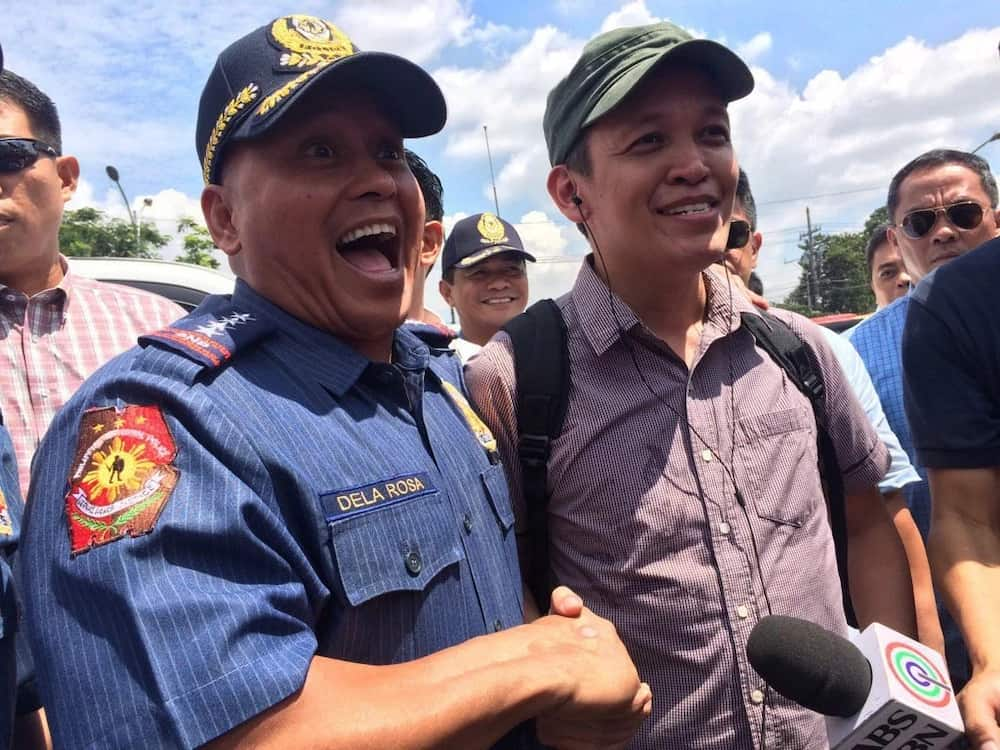 Hours before the slated SONA, the leftist group had already gathered outside the Batasang Pambansa. While policemen and leftists alike were bracing themselves for a tumultuous encounter, such did not happen.
Dela Rosa walked up to Reyes, shook his hands with a smile and told him, "Peace tayo today."
(We are at peace today.)
READ ALSO: Top celebrity tweets about Duterte's SONA
Aside from the three-word sentence, Dela Rosa also told Reyes that, "Kung pwede lang pauwiin ko na pulis ko, peace loving naman tayong lahat."
(If only I may send my men home, since we are all peace lovers.)
Bato also went to Commonwealth Avenue where about 3,000 activists flocked and told them that they were happy that they were there. They just have to make sure that they do not cause any trouble.    
READ ALSO: Netizens bashed Nancy Binay for SONA outfit
According to Reyes, what transpired on Monday can be considered as historic. It was the first time that they were allowed to be very close to the Batasang Pambansa.  
"Puwede naman pala e," said Reyes.
(It was possible after all.)            
Aside from greeting the activists and shaking hands with the Bayan leader, police officials mentioned that Dela Rosa also gave instructions to those who comprise the Civil Disturbance Management to lay their shields down, most likely in the hopes of maintaining the status and peaceful coexistence of government forces and activists. - SD, Kami Media
READ ALSO: LOOK! Duterte holds meeting with militant leaders after SONA
Source: KAMI.com.gh