Arroyo talks about life in detention, future plans
- Rep. Gloria Macapagal Arroyo gave ABS-CBN an exclusive interview to talk about her life in detention and her future as a free woman
- Arroyo said that her health condition got worse after the detention and that she feels rancor toward the faulty justice system in the country
- The former President also said that she is leaving her future up to God
After the Supreme Court junked the plunder case against Pampanga Second District Representative Gloria Macapagal Arroyo, the former President is now a free woman. In an exclusive interview with ABS-CBN, Arroyo talked about her life while in detention and her plans for the future.
According to Arroyo, her long detention at the Veterans Memorial Medical Center made her feel rancor toward the faulty justice system in the Philippines, but not toward her political enemies.
"The rancor that I feel is precisely what I was saying earlier, the justice system... the use of political persecution using the justice system, that must stop," Arroyo said.
READ ALSO: Ex-President Arroyo, neck brace show up at the opening of 17th Congress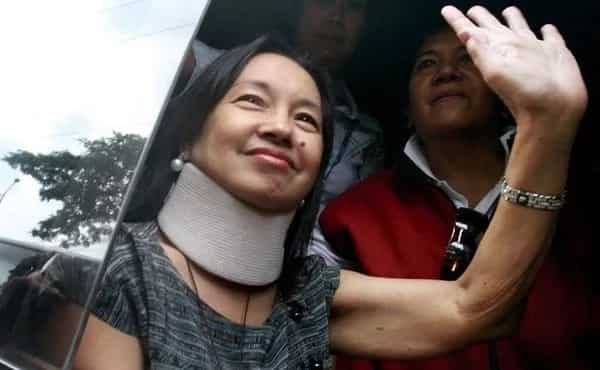 READ ALSO: Roles of Senate and House of Representatives posts
Arroyo said that her daily life at the Medical Center consisted of doing physical therapies, attending the Holy Mass, entertaining visitors, writing her memoir, and walking outside for one hour a day. According to Arroyo, she was not allowed to use cellphones and the internet during her detention.
She also commended the all of the nurses, doctors, police guards, physical therapists and other hospital employees for treating her with kindness and respect during her time at the medical center.
As for her physical health, Arroyo said that she is now suffering new health conditions due to her long detention.
READ ALSO: Ex-President Arroyo, neck brace show up at the opening of 17th Congress
"Hypertension and the nerve deterioration. Those two things are new conditions or conditions that were dormant that maybe got exacerbated," the former President explained.
Arroyo also spoke about her plans for the future now that she is a free woman, saying that she will continue to do what is right, work hard, and leave her future up to God.
"I'll go back to what my father always told me in his own public life: 'Do what is right, do your best and let God take care of the rest,'" the congresswoman said. - Kami Media
READ ALSO: Innocent until proven guilty, GMA goes home after years of hospital arrest
Source: KAMI.com.gh