Girl stabs her boyfriend for animal necrophilia!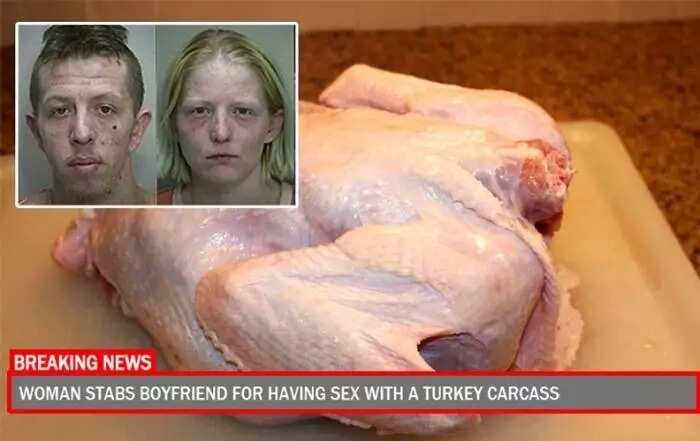 - In Wisconson a girl caught her boyfriend having sex with the Thanksgiving turkey
- A fight ensued in which she stabbed her boyfriend five times with a knife
Did you think a man having sex with a cow was bad?
Tiffany Rodriguez, 19, came home to find her boyfriend Ryan Mills, 21, having sex with the Thanksgiving turkey!
The turkey was supposed to be a part of the Thanksgiving feast, but Ryan Mills had more carnal plans for the bird.
When Tiffany caught Ryan in the act of avian necrophilia, she grabbed the carcass and ran off. An apologizing Mills ran after her, so she grabbed a kitchen knife and stabbed him five times.
Tiffany Rodriguez has been charged with assault with a deadly weapon.
Ryan Mills has been charged with 'sexual gratification with an animal' but his lawyer claims that a carcass isn't an animal.
"The statute does not prohibit one from having sex with a carcass. You are going to have several cases in front of you this next year, we are in Wisconsin – that's what people do here."
Police reports indicate that this isn't Mills' first rodeo: he was convicted in 2005 for shooting Mitzie the pig to have sex with her corpse.
Source: KAMI.com.gh