Husband saves wife, dies in the process
- A husband was able to rescue his wife amid the rapid flow of flood waters which cost his life
- He tied the woman to a tree with the use of a makeshift rope but was washed away by the flood before rescuers could arrive
- The clip of the wife being pulled into safety by firefighters has gone viral
The test of true love would involve a scenario in which one's life could be the price to pay. This was what happened to an endearing husband whose last act of love was saving his beloved wife.
An elderly woman in the province of Hubei in Central China was rescued sans life partner. The latter reportedly tried to keep the woman safe by tying her to a tree, making use of his clothes, to avoid being swept away by the rushing flood waters.
Regrettably, the husband failed to hold on to their support before rescuers arrived and was washed away just when he had successfully managed to bind his wife.
READ ALSO: Massive storm kills 87 in China, million people displaced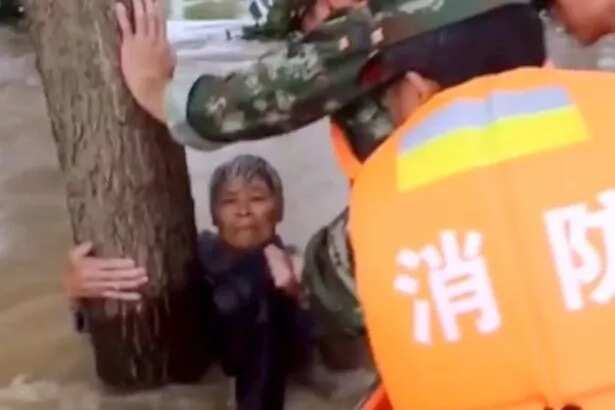 According to reports from the city of Jingmen, a distressed call from a local was the one responsible for informing them of the incident. The person on the line was the child of the 72-year-old woman, hastily telling them of how he was unable to contact the woman as she could be stranded in the recent wave of nature's wrath – which ended up being the case. In addition, the caller also said that his attempts of providing her a lifebuoy remain futile.
Witnessing how the woman was clinging to the tree, the rescuers were able to pull her from the horrible ordeal into the safety of their inflatable raft – sharing the tragic turn of events moments before.
READ ALSO: PHOTOS: Cruel guy makes his girlfriend carry him across the flood; his reason will make you mad!
The short footage circulated on social media and has since then gone viral, including the heartbreaking story of the couple.
The continuous onslaught of nature since a few weeks ago has already taken plenty of lives while some were still reportedly missing. So far, the count states of 130 being dead and at least 110 were still to be found – the chance of it increasing further was highly likely. The destructive weather has affected over millions which has also brought landslides.
READ ALSO: Photos of crying Chinese farmers go viral, saving 6000 pigs from drowning
Aside from Hubei, other provinces such as Henan, Hebei, and the city of Xingtai also faced the consequences of the heavy rain.-Kami Media
Source: KAMI.com.gh