Majority of Filipinos believe Duterte can fulfill his promises
- A local broadsheet released a poll showing that 63 percent of Filipinos expect that President Rodrigo Duterte can fulfill most, if not all, of his promises to the people
- The survey was conducted before the President's SONA and was responded by 1,200 adults from different parts of the country through face-to-face interviews
- Another recent poll also showed that Duterte has the most trust rating for public officials in Philippine history
It has been revealed that majority of the Filipinos believe that newly-sworn in President Rodrigo Duterte can fulfill most, if not all, of his promises to the people.
The poll was released on Monday, just as the president prepares for his first State of the Nation Address (SONA) where people are expecting him to revisit his promises during the campaign and to tackle the targets set for executive agencies.
The numbers show that 22 percent expect Duterte to fulfill most or all of his promises, 41 percent expect him to deliver most of it, and 32 percent only expect that the president will accomplish a few of his promises.
The question of the survey goes: "In your opinion, how many of the promises of President Rody Duterte can be fulfilled?". The choices ranged from the following: All or nearly all of the promises, Most of the promises, A few of the promises,  and Almost none or none of the promises.
READ ALSO: LOOK! Duterte enjoys the highest trust rate in history
Majority of those who voted for 'All or nearly all of the promises' came from Mindanao with 75 percent, with those from Metro Manila coming next with 66 percent.  Those in Luzon followed suit with 60 percent while those in Visayas ended with only 54 percent.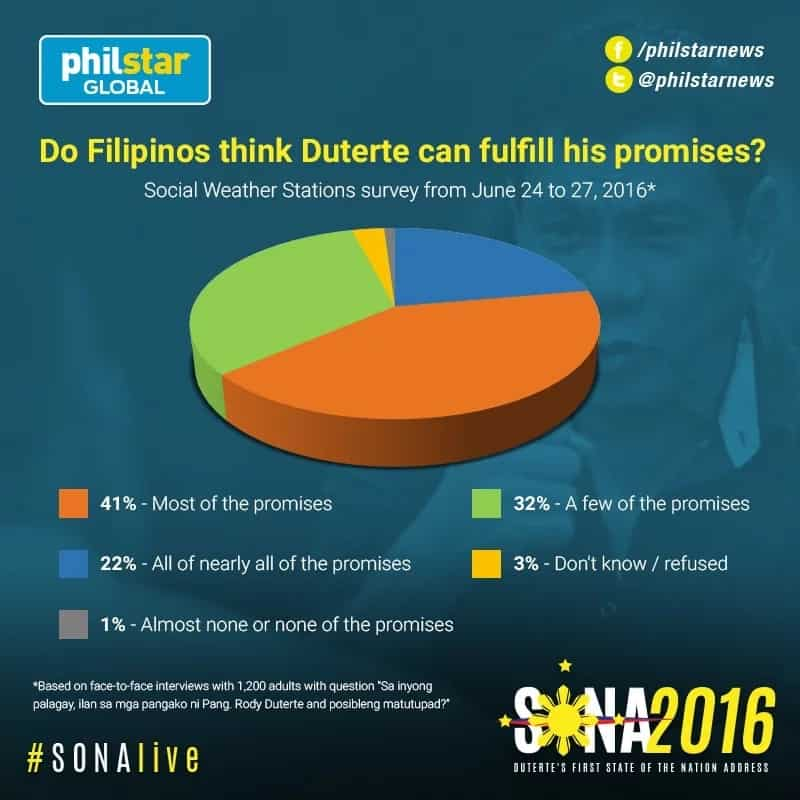 The poll also showed that of those who responded, more women expect Duterte to accomplish most up to all of his vows at 65 percent compared to men at only 62 percent.
Meanwhile, the polling by class also showed that class ABC had the highest expectation with 69 percent believing Duterte can fulfill all , if not, most of his vows. Classes D and E showed 63 and 65 percent believe rate respectively.
READ ALSO: SWS survey shows low trust rate for Duterte
The online platform of Philippine Star, Philstar, conducted the survey last June 24-27 using face-to-face interviews of 1,200 adults nationwide. The margin of error is ±3%.
The survey was conducted before President Duterte's SONA. Many netizens have expressed their trust in Duterte's promises in comments sections, posts, and tweets regarding the president's statement to the nation.
A previous survey by Pulse Asia also showed that Duterte has garnered a 91 percent trust rating during the  first week of his presidency - the highest trust rating a public official has ever achieved.-Kami Media
READ ALSO: Duterte tops latest Pulse Asia Survey
Source: KAMI.com.gh