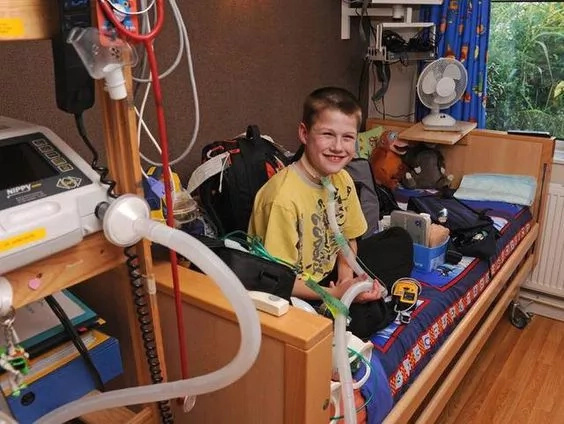 When Liam Derbyshire lays himself down to sleep, he might pray the Lord his soul to keep. Without the help of a life-support machine to sustain his breathing, the 11-year-old boy might really die before he wakes. During the day, the 11-year-old can consciously inhale and exhale, but at night, when consciousness fades away, his breathing stops.
His parents, who live in the town of Gosport, Hampshire, were told Liam wouldn't live beyond six weeks. 'Every day the doctors are amazed at how fit he is,' said his mother, Kim Derbyshire. 'But he has defied all the odds. We have been very fortunate with Liam that he has had the life that he's got. We always wanted him to have as normal a life as we could give him. He's exceeded all expectations.'
Plugged in to a life support machine at night to stay alive, the boy also carries a battery-operated ventilator in case he falls asleep in the car or on a plane. The family has spent thousands of dollars on electricity bills and even has installed emergency equipment in case of a power outage.
Life had been quite difficult for this kid – for aside from dealing with Ondine's Curse, he also had a bout with cancer and some bowel problems yet you would be quite surprised to see that he has not lost his zest in life.
He is active and cheerful – and you might not even notice that there was something wrong with him until you see the contraption on his throat which breathes for him once he falls asleep.
It is amazing how he manages to remain a joyful person despite his condition.
Watch his incredible story in this video.
Source: Kami.com.ph