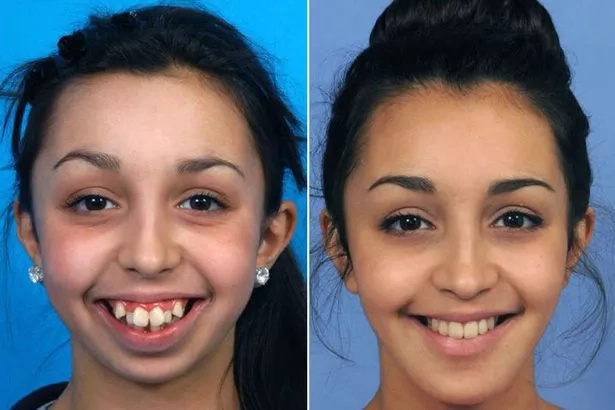 Ellie Jones, 20, was born with a congenital facial deformity that meant her teeth were not aligned. She went to have braces fitted aged 14 and the orthodontist realized her jaw hadn't grown since she was eight.
Over the next six years Miss Hickman worked with consultant maxillofacial surgeon Emma Woolley at Ysbyty Glan Clwyd to transform Ellie's looks and her whole life's outlook.
She underwent her first operation at the age of 16 and Ellie, who is now 20, said: "It was really painful, but had to be done to sort the problem. I was on a liquid diet for about a month, which was really hard, and I couldn't talk properly."
The major surgery involved cutting her jaws horizontally and vertically, and then having more surgery to her chin a year later. She didn't need that one medically, but Ellie wanted it because she didn't like how her chin looked.
Ellie couldn't talk at first, so she used a notebook to write down anything she needed to say. She eventually found she could utter a few words, although initially her mouth was swollen so she had a lisp. The operations saw Ellie's jaws cut horizontally and vertically.
Now her life has completely changed, and the shop assistant from Wales it thrilled she went ahead with the treatment.
"It's worth the year of pain and my mum said what's a year compared to the rest of your life," she said. She said the change in her appearance has been matched by an increase in confidence.
"Now I just feel normal," said shop assistant Ellie, who lives at home with dad Simon, mum Natalie and sister Chloe, 21.
"It's worth the year of pain and my mum said what's a year compared to the rest of your life. I used to dance and I used to be afraid to come to the front but after I had it done my dance teacher said she could see the difference in my confidence. I was shy but now I feel really confident. It's changed my whole life."
Ellie now dreams of being a photographer but would look just at home on the other side of the lens.
Source: Kami.com.ph