- A mother was pushing her baby in a stroller
- As they rode the escalator, the mother suddenly lost control of the stroller, which stumbled down with the baby
- The condition of the baby has yet to be revealed
Babies are fragile beings that need to be treated with delicacy and protected from harm. But in this surveillance video, a mother carelessly dropped her baby down the escalator.
In the video, the mother was casually walking with her baby in a stroller, moving towards the escalator. For the first few seconds, it seemed that the mother and the baby would be just fine.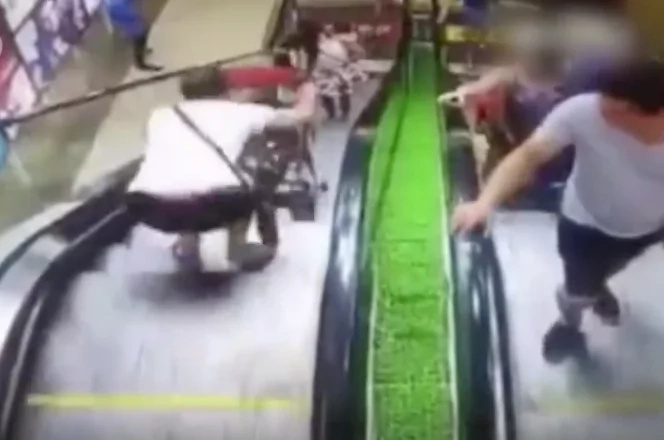 In a heartbeat, the mother lost control of the stroller.
Both the baby and the stroller started tumbling down the escalator.
The mother, in shock, started running down the escalator, trying to catch her baby. However, the stroller was falling too fast.
READ ALSO: Rottweiler has an unexpected reaction when his owner pets him
A man at the bottom of the escalator quickly pressed the emergency button, but it was too late. The stroller already arrived at the bottom.
The mother walked down the final few steps and finally reached her baby's location.
Unfortunately, the baby's condition was not revealed.
READ ALSO: This boy could die if he falls asleep but his surprising activity and optimism really inspires
According to the online post, the stroller was not designed to be used on an escalator.
When the shocking video was posted online, thousands of Chinese citizens criticized the carelessness of the mother. Many scolded her, saying that she should have taken better care of her baby.
Others simply called her stupid and careless. After all, she did let her baby fall off the escalator.
Meanwhile, others called for understanding, simply calling the incident as an accident. Some said that it could happen to anyone and that they should give the mother a break.
READ ALSO: A mom asked her neighbour to look after her daughters. What happened will horrify you…
However, the netizens also cautioned others to be more careful when handling their babies.
According to child safety experts, mothers are encouraged not to use a stroller on the escalator. The authorities say that it is better for the mother to carry their baby in their arms, or better yet take the elevator.-Kami Media
READ ALSO: Here's why this woman will have a wedding, no matter what
Source: Kami.com.ph