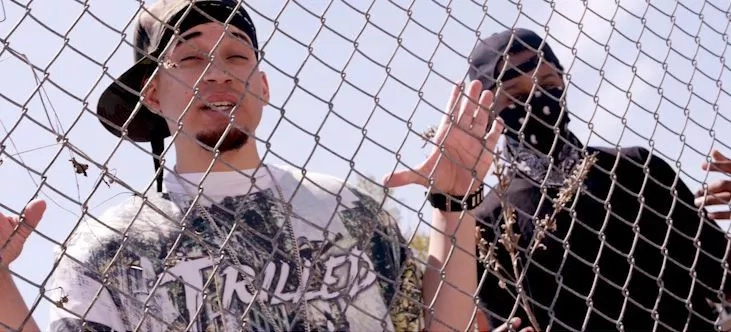 Kasper Knight, a rapper from Indianapolis shot himself in the face for a music video.
Right after blasting himself in the face with a revolver he says "I don't give a **** about nothing anymore."
His accomplice asks him "Did it hurt bad?"
"Yeah" replies Kasper.
Well, let's wish that literally biting the bullet was worth it and his musical career works out.  Check out this excerpt from social media.
Plot twist: I shot myself in the face.

Synopsis: I actually wanted to put this in a music video/ but no cameraman wanted to film it. So I did it myself since I felt like taking a bullet to the face.

Anyway, this was really nothing. I've been shot a couple times before and this was like a 4 out of 10 on the pain scale after the initial impact.

I look slightly disorientated after the blast. That's because my ears were ringing/ in pain. It was hard to focus on sound and although I assumed that i swallowed the bullet/ I wasn't quite sure.

The last time that a bullet ricocheted through me/ it destroyed an organ and part of another.

Now, anyway, to all my friends and family who boo hoo about this shit, deal with it. I don't give a fuck whether you want me to live or not unless you are paying me MONEY. Your care for my life will never supersede my disregard for it. I knew it was possible that the bullet might bounce back and puncture my throat/ but it didn't matter.

And yeah, a bunch of people thought that someone else did this. Nah I would've fought back if that was the case.

And concerning the laughter/ I forgot about what we were laughing at. I think we saw something outside the window for a second that induced the humor, but I can't remember.

When my tongue was moving rapidly around my mouth, I was feeling for my teeth.

Anyway, I should've used a different gun. My friend discouraged me from using the .9mm because he said it was armor piercing.

Armor piercing: I wonder what that'd look like going through my arms/ do you?

Lastly Worldstar initially told me to email them this video, so as of now, before I am anything important, I'm answering all questions concerning my books, art gallery, and mediocre rap/ rock videos.

Posted by Kasper Knight on Friday, July 22, 2016
Source: Kami.com.ph