- Communications Secretary Martin Andanar said that the Catholic Church has the right to hold masses and protest against the rise in extrajudicial killings in the Philippines
- Andanar explained that the separation of Church and State should always be upheld
- Church officials say that many parishioners are scared of being wrongly included in the lists of drug suspects given by barangay officials to the police
After the Archdiocese of Manila announced that it would hold a mass at the launch of its anti-vigilante killings campaign on Monday, Malacañang said on Sunday that the Catholic Church has the right to hold masses and protest.
"It's their right to hold masses, even every day," Communications Secretary Martin Andanar told the media.
However, Andanar said that the separation of Church and State should also be upheld.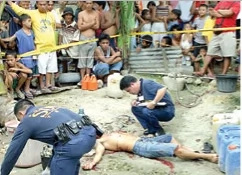 "There's always the separation of Church and State… It's up to the Church, the same way that there are policies in the government that the Church should not intervene in," the communications secretary explained.
READ ALSO: God wants to save, men want to punish – Cardinal Tagle
The Archdiocese of Manila is set to launch the "Huwag Kang Papatay" (Thou Shall Not Kill) campaign. Church officials and various sectors have become alarmed with the rising number of extrajudicial killings in the country since President Rodrigo "Rody" Duterte took office.
Bishop Bernardino Cortez and the Prelature of Infanta priests said yesterday in Lucena City that many parishioners have become scared of being wrongly included in the list of drug suspects to be abducted, tortured and then killed.
READ ALSO: Catholic bishop slams Pacquiao's 'biblical' stance on death penalty
The bishop explained that barangay officials have been giving lists of suspected drug criminals to the police which is creating an atmosphere of fear and martial law.
The Association of Major Religious Superiors in the Philippines (AMRSP) also supported the Catholic Church's campaign against the vigilante killings in the country.
"Today we are alarmed at the increasing number of extrajudicial killings seemingly perpetrated in the name of the government's drive to stop drug trafficking," the AMRSP stated.
The association added that executing suspects without due process is a violation of the most basic of all human rights. However, the AMRSP commended the programs of the Duterte administration focused on empowering the poor and protecting the environment. - Kami Media
READ ALSO: Duterte's latest mockery of the Catholic Church
Source: Kami.com.ph