- On July 24, President Rodrigo Duterte signed an Executive Order (EO) for the Freedom of Information
- Several groups including the Kabataan Party have celebrated the EO for mandating full disclosure of public information
- However, in order for the EO to affect all branches of the government, it needs to be passed in Congress
After President Rodrigo Duterte signed the Executive Order (EO) on the Freedom of Information (FOI), several groups and political parties have praised it for empowering citizens, but encourages that it be passed in Congress.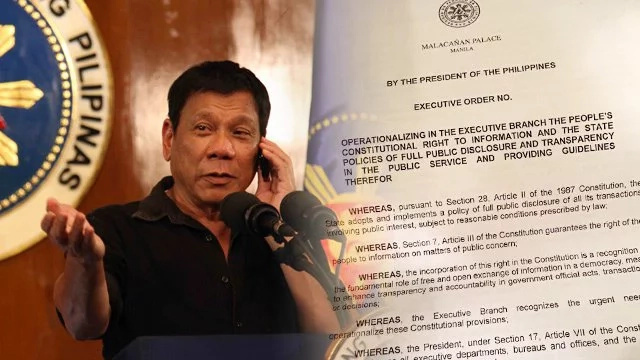 Sarah Elago, the Kabataan Party-List Representative, labelled the EO a "great stride" for the empowerment of citizens against corruption and government inefficiency.
'For the youth, in particular, this can be a great tool to compel the administrations of state universities to release documents pertinent to the use of tuition and other school fee collections, and even other income-generating projects that some universities like UP engage in,' she said.
READ ALSO: LOOK: Palace says list of gov't officials linked to drugs 'will make you vomit'
The executive order, signed July 24, mandates all government offices under the executive branch to disclose all public information.
Citizens may demand any information by submitting a letter of request to the concerned government office. However, the information may be denied if it pertains to national security or exceptions which the Department of Justice and the Office of Solicitor General will draft in the next 30 calendar days.
However, the FOI law has yet to be passed by Congress.
The FOI Youth Initiative has advocated for the implementation of the full FOI, pointing to the provisions that say any government official who deny access to public information will incur penalties and face legal action.
READ ALSO: Top 5 things Duterte proved in his first week as president
ACT Teachers Representative Antonio Tinio also reiterated the need for the FOI law to pass in Congress, stating that the EO was a 'welcome first step toward realizing the people's right to information.'
Last March 10, 2014, the Senate passed the FOI law. However, it failed to pass in the House of Representatives, even if the law was a top priority of former President Aquino.
While it is incredible news that the EO was signed by the President, it is very limited because it covers only offices under the executive branch. By passing the law in Congress, other offices under the Legislative and Judicial branches will be covered. - Kami Media
READ ALSO: Investigation on drug killings sought in congress
Source: Kami.com.ph