-Angeline Quinto admits to being a foolish in love with her non-showbiz boyfriend two years ago
-The singer is now linked to Erik Santos who, according to Angeline, was there to help her move on from her ex
-Many rumors came out that Angeline has been using Erik while keeping his hopes up, Angeline responded by admitting that her family is one of the biggest reasons why Erik and she would not work
Singer Angeline Quinto admits to once being foolish for love around two years ago.
This happened during the time that she was involved with a non-showbiz man way before rumored-boyfriend singer Erik Santos came into the picture.
Angeline told the Philippine Entertainment Portal and other entertainment media outlets that the non-showbiz guy and she just did not work out.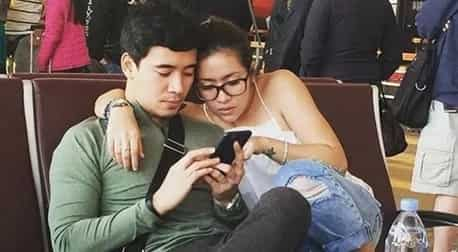 READ ALSO: LOOK: Piolo and son Iñigo's photo caused controversy, find out why
According to Angeline, her being busy with work made the relationship very difficult for them. It reached the point where her boyfriend at that time would get jealous about everything.
After that was when Erik became close with Angeline. Angeline said that Erik was the one who enlightened her that she was foolish to be with the wrong man. At that time, Angeline said that she had to sing away all her hurt and sorrow.
In the press conference of the upcoming movie, That Thing Called Tanga Na at Valencia Events Place in San Juan, Angeline admitted in an interview, that her relationship with Erik is going through a lot of controversies.
READ ALSO: Iya Villania shares baby bump experiences
In one of Erik's TV appearances, his relationship with Angeline was mentioned and Erik responded with the question: "Why? Is there an us?"
Angeline casually responded saying that she is upset how some people are starting rumors that she is only using Erik.
According to her, Erik has always been vocal about getting married and settling down while she has always been transparent about not being ready yet.
READ ALSO: This is how Sarah G spends her break from showbiz
When asked if she has cried because of Erik's response when asked about their relationship, Angeline said that she has not though she felt hurt because of the way Erik responded. When asked about a photo of Erik and Rufa Mae Quinto that spread online, Angeline explained that it was a mere coincidence that Rufa was a guest in Showtime and Erik was one of the judges.
The singer/actress was also asked about her family's take on her relationship with Erik and said that every time her mother sees Erik and her on TV, she asks a lot of questions- if she and Erik were together, or if she is finally getting married.
Her mother said that Erik should be given a real chance to start his own family and not put his hopes up. Erik, according to Angeline, has always wanted to get married and have kids. When questions about Erik's sexual orientation came out, Angeline said that she had never doubted Erik's sexuality.
READ ALSO: Bangs Garcia and British fiancé to tie the knot in Boracay and London
Source: Kami.com.ph